2 Days Congo Gorilla Safari Tour – Gorilla Trekking

After Exploring Eastern lowland gorillas in Kahuzi biega national park ?Extend your congo gorilla safari by booking 2 Days Mountain gorilla trekking in Virunga National Park for a true comparison and learn about the difference between Mountain Gorillas & Eastern Lowland Gorillas with Congo Gorilla Safaris.
Explore the Mountain gorillas on special 2 Days gorilla trekking safari tour to congo. Visiting democratic republic of congo for Congo gorilla trekking , this gorilla safari tour will take you to the most oldiest national park in Africa called parc de national Virunga. The gorilla safari will start from Kigali/ goma international airport that's when your flying with Ethiopian Airline.
Those that start from kigali will go for  a city tour and visiting some genocide memorials, later drive to gisenyi in the northern province of Rwanda-Congo border at goma for the memorable gorilla watching  in Congo  with the tour guide of Primate Safari Experiences :
2 Days Congo gorilla safari tour Highlights.
Day 1 : Transfer from Kigali or Goma Airport
Day 2: Gorilla Trekking in virunga mountains & Transfer back to Kigali.
Plan a Budget/discounted friendly 2 Days congo safari tour to explore the mountain gorillas in Africa with congo gorilla safaris the leading local safari company.
Detailed 2 Days gorilla trekking safari tour to Congo
Day 1: Transfer from Kigali to Goma
On your arrival at the airport, you Will be welcomed by the Primate Safari Experience's Guide, take a simple city tour ( Genocide memorials) along the way to gisenyi, later transfer to Goma in Congo. During the journey you will view beautiful Rwanda's rolling hills passing Ruhengeri in northern part of Rwanda and continuing to Goma boarder. Finalize boarder arrangements and cross into Congo. Dinner and overnight stay at Mikeno Lodge/Bukima tented camp or Tchegera island resort.The recommended is bukima tented because its the starting point for gorilla trekking in virunga National park.
Day 2: Mountain Gorilla Trekking in Congo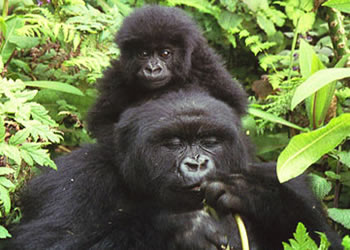 Clients that will have stayed at bukima tented camp will not have to drive  after their morning break fast but will just walk to the starting point for briefing about the dos and donts ( gorilla trekking rules & regulations).
Yet clients that will have spent their overnight at mikeno lodge after early morning breakfast drive for 2 Hours to Bukima which is the starting point for these primates excursion. It is here that you will be briefed about gorilla trekking dos and don'ts before setting off into the forest to track gorillas in Virunga National Park for the incredible experience.
In the course of searching for Mountain Gorillas, You will stay with these beautiful Mountain Gorillas for 1 hour for observation and photography. Gorilla trekking through the forest, hills and swamps can be tough, sometimes taking up to 8 hours in the forest. After this experience, you will return to the park headquarters where you will find the driver waiting for you and straight away you will be driven back to the border and then to the airport in Kigali for either a night or your flight back home if at all it is due and this will mark the end of this safari.
Safari Includes
– gorilla trekking permit
-Ground transportation
-Congo tourist Visa
– Ground Guard
-Accommodations
-Drinking water
-Safari Tour Guide/ Driver
Safari Excludes
-Flights & Airline
-Rwanda Visa for those traveling through Kigali International Airport
-Goma Airport Taxes for those flying in & out from Goma International Airport