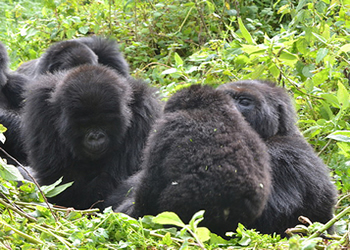 Mountain Gorillas in Rwanda- Volcanoes National Park Rwanda: Gorilla Trekking Rwanda

In the entire continent of Africa , mountain gorillas are only found in Rwanda, Uganda and Democratic republic of congo. In this article we are mainly focusing on the Mountain gorillas in Volcanoes national Park rwanda featuring articles like gorilla families, gorilla tours in rwanda.
If your planning to see gorillas in Rwanda, just know that all gorilla trekking tours will take you to  volcanoes National Park Rwanda which is the home for the Mountain gorillas and other primates like Golden Monkey tracking at the most affordable prices with chances of visiting the Virunga Mountains.
Location of Volcanoes National Park.
Volcanoes National Park Rwanda lies in northwestern Rwanda and borders Virunga National Park in the Democratic Republic of Congo and Mgahinga Gorilla National Park in Uganda. Volcanoes national park is known as a haven for the rare and endangered mountain gorilla and golden monkeys.
It is home to five of the eight volcanoes of the Virunga Mountains (Karisimbi, Bisoke, Muhabura, Gahinga and Sabyinyo), and spans 160 km2 covered in rain forest and bamboo and congo gorilla safaris is tailoring Rwanda safaris to enjoy gorilla trekking & hiking virunga Mountains in the wilderness of Africa's oldest national park.
Getting to Volcanoes National Park
The drive to Volcanoes national park is 2 hrs and hence one can do gorilla tracking on the same day and drive back to Kigali after the trek. You will be required to arrive at the headquarters of ORTPN in Kinigi, at the park entrance, by 7:00 am,
If you hope to trek gorillas for one day, you have to wake up very early for your journey so that you are on time. However, there isn't any public transport from Musanze to the headquarters of the park at Kinigi.
Cost of the Gorilla Permit in Rwanda
Gorilla permits within Rwanda were recently increased up to $1500 per individual and then in Uganda they go each for USD 600 and democratic republic of congo is 400$$$ considered the cheapest destination for gorilla trekking as per the analysis done by Congo gorilla safaris. The gorilla permit offers you one hour with the mountain gorillas in a group of 8 people for Uganda and Rwanda yet in Democratic republic of congo its 6 pax per group.
Rwanda Mountain Gorilla Facts
Today nearly half of the world's 700 remaining mountain gorillas live in the Virunga Mountains of central Africa, at the intersection of Uganda, Rwanda, and the Democratic Republic of the Congo.
Approximately 480 mountain gorillas live in the Virunga complex and reside on the altitude range of 2,300 to 4,500 meters in the southern area of Virunga National Park (in the DRC), as well as the Volcanoes National Park in Rwanda, and some in Uganda's Mgahinga National Park.
Rwanda Gorillas can climb trees, but are usually found on the ground in communities of up to 30 individuals. These troops are organized according to fascinating social structures.
Troops are led by one dominant, older adult male, often called a silverback because of the swath of silver hair that adorns his otherwise dark fur.
Troops also include several other young males, some females, and their offspring. The leader organizes troop activities like eating, nesting in leaves, and moving about the group's 0.75-to-16-square-mile (2-to-40-square-kilometer) home range. Mountain gorillas have longer hair and shorter arms than their lowland cousins. They also tend to be a bit larger than other gorillas.
Those who challenge this alpha male are suitable to be frightened by impressive shows of physical power. He may stand upright, throw things, make aggressive charges, and pound his huge chest while barking out powerful hoots or unleashing a worrisome roar.
Despite these displays and the animals' obvious physical power, gorillas are generally calm and nonaggressive unless they are disturbed.
Female gorillas give birth to one infant after a pregnancy of nearly nine months. Unlike their powerful parents, newborns are tiny weighing four pounds (two kilograms) and able only to cling to their mothers' fur. These infants ride on their mothers' backs from the age of four months through the first two or three years of their lives.
Young gorillas, from three to six years old, remind human observers of children. Much of their day is spent in play, climbing trees, chasing one another and swinging from branches.
Hoping to have a Rwanda trip, one should not miss out on the magnificent opportunity to visit Rwanda's Volcanoes National Park consisting of 125 km2 of mountain forest and home to the six Virunga Volcanoes and the world famous mountain gorillas.
The lushly forested slopes of the mountains form an appropriately dramatic natural setting for what is arguably the most poignant and memorable wildlife experience in the world: gorilla trekking.
The exhilarating climb to the gorilla's natural habitat of shady bamboo forest offers fantastic views in all directions, before the trackers are immersed in the mysterious intimacy of the rainforest, alive with the calls of colorful birds and the chattering of rare golden monkeys. Nothing can prepare one for the impact of encountering a fully-grown silverback gorilla, up to three times the size of an average man, yet remarkably peaceable and tolerant of human visitors.
With the help of dedicated wildlife rangers, comprehensive monitoring, and community education programs, the endangered gorilla population in the Virunga's experienced a nearly 20 percent increase in the early 2000s.
Gorillas in other Virunga parks are faring a bit better, as is the other half of the world's remaining mountain gorilla population, which lives in Uganda's Bwindi Impenetrable National Park, just 24 kilometers north of the Virunga Mountains.
Through the purchase of the permit, you too are contributing to the conservation of the mountain gorilla. The funds generated from the sale of this permit are used for the management of the National Parks. A percentage of the funds raised from Park entrance fees are also donated to local communities living adjacent to the parks to contribute to their development and improve natural resource management in the region.
RWANDA GORILLA GROUPS
There are many guerilla groups in Rwanda .Rwanda's Volcanoes national park today has a number of 10 habituated guerilla groups for visitors to see and one set aside for research from which the Kwita Izina baby gorilla naming ceremony are selected.
Therefore, a number of 80 gorilla permits are available each day for tourists going watch gorillas on a single day.
Surprisingly, each gorilla group has distinct and unique characteristic quiet different from another.
Find the gorilla groups in Rwanda;
Titus Family.
The Titus group is the original family named after the Silver back Titus which was born during the days of Dian Fossey' research at Karisoke which was the gorilla group Dian Fossey was studying. Titus gorilla lost his family to poachers including his father, uncle and brother and his mother and sinter joined other families leaving Titus to be raised by an unrelated male gorillas. According to Dian Fossey Titus the infant seemed "underdeveloped and spindly" and had difficulty breathing, but Titus overcame these difficulties.
Amahoro group
Amahoro is a Kinyarwanda word to mean serenity, as the name goes, the family is known for its peacefulness and congeniality which on the other hand has caused its silver back Ubumwe to lose some members into another group called Umubano. Amahoro means 'peace' and the group has lived to the expectations of her name and is regarded as the most peaceful group. It is composed of 18 members including 2 silver backs and is a bit strenuous to track as one has to endure a hike up Mt. Bisoke slopes where the group established their home.
Susa group (Susa A)
This is the most popular family with previously 42 members before the split. Well known for being the group studied by Diana Fossey during her time in Rwanda from 1967 to 1985. In 2008 the group of 42 individuals split into 2 as it had become so large.
The breakaway group was later known as Susa B or Karisimbi group. Susa a group is well known for its playful twins of Byishimo & Impano and was named after the Susa River that drains through their home range. The group is composed of 33 members including 2 silverbacks and inhabits the forests on the lower slopes of Mt. Karisimbi.
Karisimbi group (Susa B)
This is sometimes referred to as Susa B and is the group which split from the original Susa in 2008. It is made up of 16 members including 2 silver backs. The group is the hardest to track as it inhabits the upper slopes of Mt. Karisimbi at an altitude of 4507m.
The group has established their home high in the upper slopes and is suitable for trackers interested in serious hiking. Tracking this group is sometimes difficult as they go further high though RDB rangers will first locate the group a day before.
Umubano group.
This family broke away from Ubumwe silverback as a result of constant battles between Charles and Ubumwe the two head silver backs; Charles consistently challenging the supremacy of the leader Ubumwe. Charles eventually succeeded in breaking away with some members hence forming Umubano group.
The group is composed of 13 members including 2 silver backs and its name means 'living together'.
Sabyinyo group.
This is the nearest gorilla family and easiest to track inhabiting the gentle slopes between Mt. Sabyinyo and Mt. Gahinga. The group is popular for its giant silver back known as Guhonda which has kept its main challenger, Ryango out of the family to remain as a lonely silver back.
The group is composed of 13 members including one silver back after another was exiled from the group. The commander of the group; Guhonda is the largest silver back in the park weighing about 220kg. The group was named after the Sabinyo volcano that means the 'old man's teeth'.
Agashya group – Group 13.
This group is named after the initial family individual who were 13 at the time of habituation. The group was initially led by a silverback called Nyakarima but was later over thrown by Agashya meaning the ' News' which is now the leader and the family was named after him. Today the family has grown to 27 members including one silver back (Agashya). The group occupies the same territory with Sabyinyo group but sometimes Agashya takes the family deeper into the mountain when it senses danger.
Kwitonda group.
This is a migrant group from Democratic Republic of Congo which was named after its dominant silver back called Kwitonda which means the 'Humble one'. Because of its migration background, the group wonders in the lower slopes of Mt. Muhabura and like Karisimbi group,
It is onerous to track as it sometimes moves to the upper slopes. The group is composed of 23 members including 4 silver backs.
Hirwa group.
This family was formed in 2006 by some members of Sabyinyo group and others from 13 groups (Agashya). More gorillas joined in and now the group is composed of 16 members including one silver back. The group derived its name from its formation process that was out of luck. Hirwa means 'the Lucky one' and as luck has it, the group got twins in 2011. Hirwa group inhabits the foothills of Mt. Sabyinyo to the side of Mt Gahinga.
Ugenda group.
This is a Kinyarwanda word 'Ugenda' to mean 'on the move' or 'mobile'. The group was named after its unique behavior of roaming from place to place. It consists of 11 members including 2 silver backs and wonders around Karisimbi area hence very difficult to track since it has no particular home.
Bwenge group
This group was formed as early as 2007 by Bwenge, and named after him the group's dominant silverback, after he had left his Natal group and was joined by females from other groups. The group occupies slopes of Karisoke volcano between Karisimbi and Bisoke mountains and had witnessed dark times when its 6 infants died.
The group has however recovered and now has 11 members including one silver back. Bwenge is a Kinyarwanda word which means 'Wisdom' and it's no wonder that this was the group that featured the Movie 'Gorillas in the Mist'.