3 Days Eastern lowland Gorilla tour- Congo Gorilla Safaris
Looking for exploring the Eastern lowland gorillas in Congo after the Mountain Gorilla watching in Rwanda or Uganda? Take the best shortest 3 days Congo gorilla safari with the leading tour operator in Congo to visit Kahuzi biega National Park for the Gorilla Watching tour with Congo Gorilla Safaris.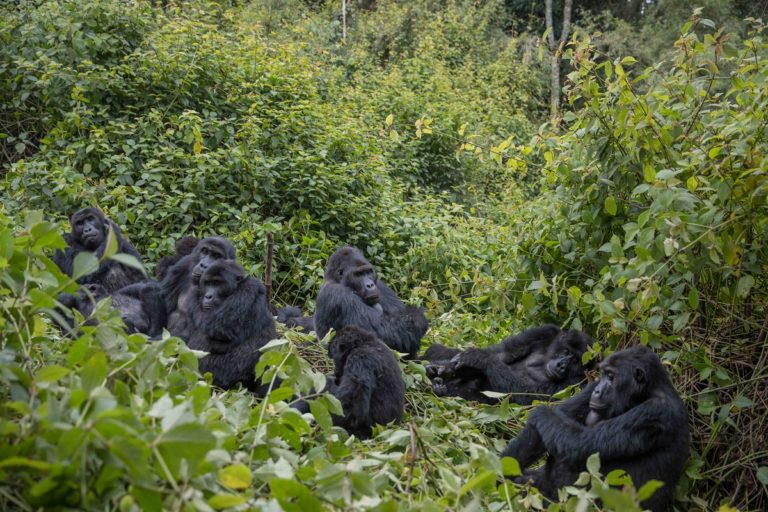 After Visiting mountain gorillas in Congo, the next adventure holiday in Congo is watching the eastern lowland gorillas in the only known national park of Kahuzi Biega. In the entire world , Eastern lowland gorilla gorilla trekking can be done in democratic republic of congo located in maiko national park & Kahuzi Biega national Park but the only opened destination for gorilla trekking is parc de kahuzi biega and the shortest safari to visit the gorillas is the 3 Days Congo gorilla trekking tour. Dont miss the chance to visit the eastern lowland gorillas in kahuzi biega national park, Book 3 Days Eastern lowland gorilla tour to bukavu,  Find the unique 3 Days Lowland gorilla watching safari experience with overnight stay in Bukavu town  in nice accommodation in preparation for gorilla trekking like Orchids Safari Lodge, Coco Lodge, Exodus, Robby Guest house and Hotel Begonais Learn About the Accommodations in Kahuzi Biega National Park.
This 3 Day eastern lowland gorilla safari will also begin from Kigali and drive to the Rwanda-Congo border at Bukavu for the memorable low land Gorilla Trekking trip in Congo, you will have full time safari guide from Primate Safari Experiences.
Trip Summary : 3 Days lowland gorilla trekking Tour.
Day 1: Transfer from Kigali International Airport
Day 2: Eastern Lowland gorilla trekking
Day 3: Transfer back to Kigali for the flight back home.
Detailed Travel plan : 3 Days Eastern Lowland gorilla Trekking .
This 3 Days Congo gorilla safari tour starts from Kigali international airport because there is no direct flight to kavuma airport in Bukavu , so the trip starts from Kigali and transfer to bukavu with approved visa handled by Congo gorilla safaris to enable you enjoy eastern lowland gorillas in Kuhazi Biega.
Day 1: Transfer from Kigali to Bukavu
On your arrival at the airport, you will be welcomed by the Guide from Primate Safari Experiences and transferred to Bukavu in Congo. During the journey you will view beautiful Rwanda's rolling hills passing through various districts of Rwanda until you reach the Congo –Rwanda boarder at Bukavu. Finalize boarder arrangements and cross into Congo. Dinner and overnight stay at Orchids hotel or Exodus, Begonais Hotel.
Day 2: Eastern Lowland gorilla trekking day.
After early morning breakfast embark into the safari jeep and drive for 2 Hours to Kahuzi-Biege which is the starting point for these primates excursion. It is here that you will be briefed about gorilla trekking dos and don'ts before setting off into the forest to track gorillas in Kahuzi Biega National Park  for the incredible experience.
During the safari activity of gorilla trekking will be allowed to stay with the Eastern lowland gorillas for 1 hour for observation and photography as you watch them playing in the wild with their young one.  After this gorilla watching experience, you will return to the park headquarters where you will find the driver waiting for you and straight away you will be driven back to the border and then to Kibuye for a night at moriah hotel.
Day 3: Drive to Kigali
On this day, you will wake up very early in the morning and have a cup of tea. Then you will jump on to your safari jeep for the drive back to Kigali if time allows make stop overs to some genocide memorials in Rwanda and later be dropped at the airport Kigali for your flight back home.
Safari includes
– Eastern lowland Gorilla  Permits
– Accommodation
– Drinking Water
– Ground Transportation
– English speaking Safari Tour Guide
-Congo Tourists Visa
Safari Excludes
– Flight to Rwanda
– Rwanda Visa
– cigarettes and all personal expenses not listed in the itinerary above