5 Days Eastern lowland gorilla & Nyiragongo Hike Tour.
;
Planning for eastern lowland gorilla tour in Africa? Book 5 Days lowland gorilla tour & nyiragongo climbing safari with congo gorilla safaris the safari company that is offering Congo safaris. This 5 days Congo gorilla trekking adventure starts from Kigali international Airport or Kigali Hotel and ends in Kigali with visitations to Kahuzi biega National park for eastern lowland gorilla trekking ( southern Lake Kivu) and virunga National Park for nyiragongo hiking adventure in Goma ( northern Lake kivu).
Eastern Lowland gorilla Trekking( Kahuzi biega National Park) once combined with Nyiragongo Hike (Virunga National Park) will reward you the ultimate safari Experience and an adventure of a lifetime. So here we highlight what transpires on this mesmerizing 5 days safari;
Day 1: Transfer to Bukavu- DR Congo
Upon the arrival at Kigali international airport you will be picked by the company  driver guide  and start the drive  southwards to Cyangugu boarder on the way to Bukavu in DR Congo have lunch at (Butale Ibis hotel) and  continue cross the boarder  to Bukavu, Incase time allows visit some genocide memorials along the nyungwe road. Dinner and overnight at Orchid safari Lodge/ far horizon.
Day 2: Lowland Gorilla tracking tour in Kahuzi Biega South Kivu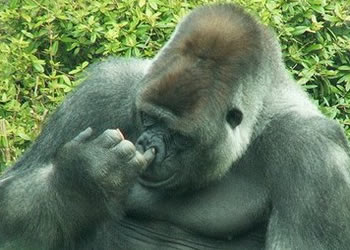 Early morning after breakfast, drive to Kahuzi Biega National Park to trek the lowland Gorillas, The Drive from Orchid Safari lodge is about 1 hour to the park headquarters for the true experience of the lowland Gorilla trekking  in Democratic Republic of Congo. During the briefing time clients are entertained by the cultural dance and hot tea offered by the park.
Trekking lowland Gorillas is very amazing as lowland Gorillas differ from the mountain gorillas. The lowland Gorillas stay in bigger families as compared to mountain gorillas; you will not regret the safari effort once you meet the amazing Gorillas! After tracking. Return to the hotel for dinner and overnight.
Day 3: Transfer  to Goma
In the morning, take morning boat from Bukavu to  Goma ( this will be 5 hours by boat shared boat ) you will check inn at Lac vic hotel in Goma  for dinner and overnight.OR alternatively the traveler may be driven on road using Rwanda side and arrive in Goma in the afternoon hours and relax at the beaches on lake kivu  with boat cruise on the lake kivu.Dinner & overnight at lake kivu water front breach hotel/ Lake Kivu Serena/ Discover youth hostel
Day4: Hike Nyiragongo Volcano

After Early morning breakfast, the traveler will   set off in another safari jeep well protected and guarded up to Kibati the starting point for the hike . The climbing adventures take about 6-7 hours depending on the movement of the team and the number of people in the trek. Overnight at the top of the  volcano, dinner and overnight at wooden
Tents/Cabins at the summit, meal plan:
Day 5: Descend to Goma- Rwanda
You will descend to Goma and arrive at Kibati in the morning around mid-day and transfer to Goma for lunch and later transfer to Gisenyi and drive back to Kigali this is extra 4 hours drive with the driving speed limit of 60/km/hr in Rwanda.
Safari includes
Eastern lowland Gorilla  Permits
Nyiragongo hike permit
Accommodation
Drinking Water & En route Lunch
Ground Transportation
Safari Excludes
Flight to Rwanda
Congo Tourists Visa
Rwanda Visa ( apply for Multiple entry Visa)
All personal expenses not listed in the itinerary above
End of 5 Days Eastern lowland gorilla tour & nyiragongo hike Safari.