3 Days Nyiragongo Volcano Hiking Safari tour.
Planning for a hiking tour to Mount Nyiragongo Volcano? Visit the nyiragongo volcano on 3 Days Special hike safari to climb the most active volcano in Congo .
Mount Nyiragongo Volcano is the world's largest lava lake located in parc de virunga, hiking tours to nyiragongo ranks high the top safari activity to be enjoyed while on safari holiday to congo. The shortest hiking tour is 3 days nyiragongo safari expedition for travelers starting their trip from Kigali Rwanda . The real hike is 2 days: one day for ascending and the second day is for descending down as it comes with an overnight stay at the top of the volcano .
Book 3 Days congo nyiragongo climbing tour  with congo gorilla safaris to enjoy the hiking of the most active volcano in virunga national park with overnight stay at the top of the view of African oldiest national park.
This 3 Days Nyiragongo volcano Hike Tour to congo offered by congo gorilla safaris starts from kigali Rwanda and Ends in kigali Rwanda.
3 Days Nyiragongo Hiking tour Highlight.
Day 1: Transfer to Goma from Kigali
Day 2: Nyiragongo Ascending
Day 3: Nyiragongo Descending
Detailed 3 Days Nyiragongo Hiking Safari tour.
This 3 Days nyiragongo volcano hiking tour starts from Kigali Rwanda or goma town for those travelers flying to goma international airport ( Ethiopian Airline comes once every week) and ends in either way depending on the flight details.
Day 1: Transfer to Goma ( Parc de Virunga / Mikeno Sector)

Upon arrival at kigali international airport, you will be welcomed by Primate Safari Experiences guide and take a city tour to view the various genocide memorials in Kigali and later transfer to gisenyi in the northern province of Rwanda  . Check in at the hotel for dinner and overnight  at Lake kivu Serena hotel / Lake kivu Water front breach hotel / Paradise malahindi.
Day 2: Nyiragongo Volcano Hiking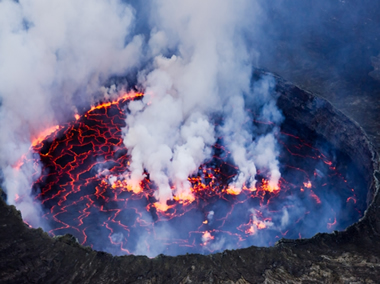 Wake up very early in the morning hours and jump into the safari jeep to drive to cross the border to democratic republic of congo where you will drive later for one hour to kibati the starting point for
Nyiragongo hike,
you will find there the mikeno package including all your meals for lunch and dinner in the evening, The nyiragongo hike takes about 5-7 hours to reach at the top depending on the size of the group of the Trekkers. Dinner and overnight at the Nyiragongo Cabin Summit shelters.
Day 3: Depart to Kigali
After early morning break fast start to descend down ward to kibati where you will find the guide waiting for you and transfer to goma passing through goma town and if time allows take a city tour of the goma caves and visit the lava areas that were affected in 2012 by nyiragongo. After Cross the border and transfer to kigali international airport.
Safari includes
– Nyiragongo hike permit
– Mikeno package
– Congo tourists Visa
– Accommodation
– Drinking Water
– Ground Transportation
– Border crossing guidance
Safari Excludes
–  Flight to Rwanda
– Rwanda Visa
– All personal expenses not listed in the itinerary above