Primate Safari Experiences Team- Staff Congo gorilla safaris
Primate Safari Experiences is a safari company that is behind two heads and other Staff members that play a key role to make your Vacation a  lifetime Memorable holiday in Africa.
Experience the thrill of seeing gorillas & wildlife up close & personal! We specialize in open vehicle safaris, camping safaris, family safaris, private safaris and day safaris and can also tailor make that special adventure just for you. All tours are fully escorted by specialist guides all of them with minimum of 6 years' experience as guides or rangers and a wealth of knowledge which they are waiting to share with you! Their absolute passion for their chosen profession will make your safari the trip of a lifetime. All our safaris meet the highest standards and always take your needs, safety and enjoyment into consideration.
Whether you're looking for a fully escorted safari, a fly-in safari to a luxury lodge or a self-drive option, we can plan your trip for you and make all your reservations. We understand that everyone has different needs and we are confident that we can tailor-make the dream holiday that you're looking for. With more than 10 years' experience in the travel & safari industry between us, you can rest assured that you are working with absolute professionals.
As the slogan goes that Coming together is the beginning. Staying together is progress. Working together is success, the staff of Primate Safari Experiences is working as team to easily make your safari holiday the best safari adventure. The working as team has enabled the employees of Primate Safari Experiences to be able to make extra ordinary safari trips to travelers that select to travel with us?
Our Ability as company to work as a team will be seen during the time of booking the Congo safari, Rwanda safari or Uganda safari as during day time the mails will be replied by a different individual and the night mails will be responded too by another staff as we clearly understand that the client is the boss and the team will be able to help you to design the safari from scratch to nice tailor made safaris.
The Staff of Primate Safari Experiences have the first hand information about destinations that they will be taking you for your primte safari as they have undertaken various adventures to Congo, Rwanda and Uganda & Tanzania its among the reason that their prices are flat rates. Our multilingual staff  take care of tourists all over Central & East Africa guaranteeing complete satisfaction on their vacations of gorilla trekking or climbing nyiragongo.
Check out on the team
 Edward  Tour Manger.

Edward is a native Ugandan bored and raised in south western Uganda near the boarder of Uganda, Rwanda and Democratic republic of Congo and he is educated  and informed with all the travel information you need to know about Rwanda & democratic republic of congo with specialist in tailoring congo safaris & arranging congo tourists Visas for travelers booked with Primate Safari Experiences limited . His area of expertise is the gorilla safaris to Kahuzi Biega National Park & Virunga National Park Congo.
HE has new plans of taking case studies to visit other adventurous tourists destinations like Upemba national park , Maiko National Park and Garamba National Park all located in congo  yet to see if Burundi is adventurous destinations to be visit  while on an Africa Safari holiday and other been to all Ugandan & Rwandan National Parks for Various safari activities like Gorilla Trekking, Wildlife Safaris and hiked nyiragongo in 2016.
Edward holds degree from Makerere University , Diploma in Law from Law Development centre, Masters Degree in Public administration  & management from Uganda Management Institute, he has the required  pro efficiency in management & administration of offices affairs . He  is a published TI experts as part of his leisure time and enjoys road tripping on weekend getaways.
Edwards words, We need to conserve the mountain gorillas & eastern lowland gorillas in Africa before they extinct and this can be done through the conservation of the jungle forests and stopping poaching in the forests mainly virunga region.
Billy Head Tour Guide

Billy  is a well known tour guide that mostly guides gorilla safaris and few wildlife safaris, Born in South western Uganda in a small District Called Lyantonde where he studied up to the Secondary level and later Joined Makerere University and did a Bachelors Degree in Tourism and Graduated in 2008 and started working as a tour guide but is a co founder of Primate Safari Experiences later played am important role of forming the Primate Safari Experiences with the purpose of offering memorable Congo Safaris & multi country Safaris and is the most  resourceful Person for Gorilla Trekking Questions & nyiragongo volcano hiking.
Billy is a co founder of Primate Safari Experiences as he was giving as he discovered the gaps that were in Congo tour operators and he decided to find the life time solution to ease the adventure of Democratic republic of Congo to increase the accessibility of tours to visitors, he has been leading safaris to Congo for the last 2 years  since Congo became stable for tourists to virunga.
He has ever done gorilla trekking in Virunga national park, Climb mount Nyiragongo volcano in Goma ( Year 2014, 15, 16 and 17 ), visit ngorongoro craters, Serengeti and Masai mara national park for his add on experience , with only one safari experience awaits for him to venture is the eastern lowland gorilla trekking in kahuzi biega National Park Congo.
His words Dont get worried about coming to Africa mainly in democratic republic of Congo for a primat safari experience as we are the most knowledgeable safari company with the right information about gorilla tours to Congo.
Godfrey Tour Reservation Manager

Godfrey is a Ugandan born in masaka town and studied in masaka secondary school till the time he joined Makerere university where he did the bachelors degree in tourism and worked for various Companies later joined Primate Safari Experiences and he mainly works in the gorilla safaris to Uganda only but he has expounded Rwanda and has ever done eastern lowland gorilla trekking( September 2016).
Godfrey  has managed to tame her itchy feet long enough to join the Primate Safari Experiences reservations section and he is the reservation manager at Congo gorilla safaris. Since joining Primate Safari Experiences as a teenager got her hooked on life outdoors her mission "not to have a boring life" has Experience in gorilla safaris in Uganda Side and is able to book the best lodges and knows  which is the best lodge to stay in on a gorilla safari and he can help you to tailor the gorilla safari and add in wildlife viewing. Whether your a Budget Traveler, he is able to come up with a tailor made Uganda Safari that will make you happy at last when Visiting Uganda. Just contact him and have the gorilla safari organized by an experienced Ugandan reservations of Primate Safari Experiences.
His words the most memorable safari experience  was the eastern lowland gorilla trekking in Kahuzi biega national park.
Sarah Travel Writer & Reservation Assistant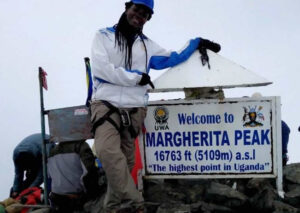 Sarah has just graduated from the university with the Bachelors Degree In tourism and leisure and hospitality from Makerere business school kampala Uganda and she is born in currently is staying in Uganda. Wishing to Know more about the mountain gorillas conservation projects and road Trips ask Sarah  she has the right Information and is experienced in Rwanda Safaris.
Sarah joined Primate Safari Experiences in 2014 after her internship training , when she became the only first Internship student to be take a gorilla tour to Rwanda and Uganda to have more known about gorilla trekking in volcanoes national park and Bwindi Impenetrable Forest , she gained more interest in marketing the Mountain Gorillas in Africa and she is among the best writers of Primate Safari Experiences as she became so much toughed by the Mountain Gorilla . She has accompanied Various Road tripper in Tanzania, Rwanda and Uganda Plus Burundi as she like Traveling and Self Driving.  She is the Only Staff member at Primate Safari Experiences that has been Able to Expound the Kidepo National Park when she was on a firm trip back the days. Wishing to have a View of Ugandan Wildlife Destinations when your Planning to have a Private Guided Safari, Jackline has done this several Places including Uganda , Rwanda and Burundi. Murchison Falls rafting trip. Sarah brings confidence to the team, aiming to preventing unnecessary Private Guided Tours in Far reach areas in Africa.
Francis Tour Guide:
He grew up in   Bukavu which is located in Eastern Congo and he studied in Bukavu and Later joined the National Teachers College and Later Joined the Tourism Field where he started working with Primate Safari Experiences and he is a Wildlife Lover and he has spent most of his time as a Wildlife Guide but later after Joining Congo Gorilla Safaris where he is guiding as a Gorilla Safari in Uganda Side and he Got the lover for Mountain Gorillas after the Gorilla Trekking activity he undertook in Later year 2014 and now he is Guiding as a Gorilla Safari Guide at Primate Safari Experiences. He Did the Mountain Gorilla Trekking in Virunga National Park which made him to appreciate that the forest is a true Jungle and accepted that name of Massif as he searched for the Gorillas in the Mist of Virunga during his Trekking, He has done Extensive Explore of Rwanda, Burundi.
Francis has also tried his hand at Mountaineering adventures , White Water rafting and Wildlife Guiding in Congo.
Kasule Tour Guide
Kasule is born in south western Uganda and attended Schools in western Uganda till he reached at the university level and he joined Makerere Business School and he did Business Administration in 2010 and due to the high passion he had for travel, he expounded to adventure and joined the Tourism Field in 2006.He is married with two daughter
Kasule is a Skilled naturalist who has done what very few Guiding and  would even dare to attempt it again and again. He's mapped with a new Guiding Skills in both Mountain Gorillas, Eastern Lowland Gorillas and Wildlife plus cultural Safaris across the virunga Region, last year he was in Maiko National Park, Garamba National Park, Okapi Wildlife Reserve, Virunga National Park, Upemba National Park on a cultural safaris and at Congo Gorilla Safaris mostly he guides in Safaris that Include Gorilla Trekking & Wildlife Viewing or Gorilla Trekking & Cultural Viewing across Congo, Rwanda, Uganda and Tanzania.
Baker  Tour Guide.
Baker  has been an outdoor Guide for 9 years Before he joined Congo Gorilla Safaris. He specialises in leading exploratory adventures in mountaineering and Birding Tours in Congo and Rwanda Plus Uganda , wishing to climbing Nyiragongo Mountain in Congo and wilderness expeditions like the 5 Days Congo Gorilla & Nyiragongo Hike ; he also travels  as a outdoor safety consultant for the industrial, media and outdoor recreation industries. He and his wife also teach advanced wilderness skills to outdoor professionals. Emma has worked with Primate Safari Experiences for the last 1 year.
When he's not working, he lives a subsistence lifestyle off the grid in  Kampala , and spends his free time exploring the Uganda wilderness with his family and friends, he is so prefect with the 1 Day Kampala City Tour and Goma Day Trips.