17 Days East Africa Safari , Kenya Tanzania Wildlife , Nyiragongo Hiking tour & Rwanda Gorilla Tour
Explore the East african countries on a wildlife safari adventure encompassing the visit to
Kenya , Tanzania and Rwanda
for
gorilla trekking
,
Nyiragongo Climbing tour
with the destination experts called Congo gorilla safaris .  For the
Kenya wildlife Safari tour
part it will will be purely wildlife viewing in the famous national parka of Kenya with an experienced tour guide of
Congo gorilla safaris
, you will spot the following animals,  lions, elephants, rhinos, buffaloes, wildebeests, zebras, elands, hyenas, baboons, gazelles, giraffes, leopards, cheetahs, hippos, crocodiles and over 1,100 species of birds.
For
Tanzania Safari tours
, Tanzania may be the most well-known country in Africa. It is the country that has become synonymous with the
Serengeti, Mount Kilimanjaro, and Zanzibar
. People from all over the world flock to Tanzania to have a
safari in some of the best national parks
in the world. The country is staggeringly beautiful, populated by a warm Swahili culture, and home to some of the best wildlife on this planet and this
17 Days tanzania Safari tour
will reward you with
wildlife watching experience
. Here are our top Tanzania safari trips to know before you go for a multi country safari holiday in East Africa.
Planning for Fantastic Kenyan wildlife and the endangered Mountain gorillas & Nyiragongo hike in
Virunga National Park Congo
.  Book the
17 Days East Africa gorilla & wildlife safari
to the best-known national parks combined with the mountain gorillas of Rwanda &
Nyiragongo climbing
.  The
Tanzania , Kenya & Congo Safari
is starting from Nairobi, you visit amboseli, on wards to
Lake Manyara, Ngorongoro and Serengeti in Tanzania
. Then re-enter Kenya into Masai Mara for 2 nights before flying to Kigali Rwanda for gorilla trekking and crossing to democratic republic of congo for nyiragongo hike.
Day 1: Arrival Nairobi – Transfer to hotel
upon arrival at  Jomo Kenyatta International Airport you will be welcomed by the tour guide from Primate Safari Experiences and transfer to your hotel for dinner and overnight at  EKA Hotel Nairobi, Meals F/B.
Day 2: Transfer  to Amboseli
After the morning breakfast, you will jump into the safari jeep and transfer to Amboseli and with Amboseli's wonderful views of Mount Kilimanjaro's snow-capped peaks in neighboring Tanzania. Today you'll arrive in time for lunch at Amboseli AA Lodge, surrounded by open plains in some of the finest elephant-watching country in the world. Then you'll set off on a game drive in this park that is known as 'the land of giants'. Dinner and overnight at  Amboseli AA Lodge ,Meals F/B.
Day 3: Game Drive in  Amboseli National Park
Enjoy the full day discovering Amboseli on early morning, mid-morning and afternoon game viewing drives. Amboseli is one of Kenya's smaller parks, but it's a popular one that's packed full of big sights, with over 1000 elephants including some of the largest bulls in Africa. The ecosystem here is primarily Savannah and the low-lying vegetation makes the wildlife here easier to spot. Though largely dry and dusty, Amboseli is also home to swamp lands, fed by underwater springs from the melt waters of Mount Kilimanjaro. Dinner and overnight as above. Meals F/B
Day 4: Drive from Amboseli to Lake Manyara via Arusha
After breakfast at the lodge, you'll transfer to the Kenya/Tanzania Namanga border. Once you have cleared immigration, you will change from the Kenyan safari jeep to a Tanzanian safari jeep and even the guides will change and transfer to Arusha for en route lunch and continue to Lake Manyara National Park.Dinner and overnight  Migunga Tented Camp, Meals, F/B.
Day 5: Game Drive in Lake Manyara – Afternoon drive to Ngorongoro
Wake up very early for morning game drive in Lake Manyara. Breakfast. Further game drive till lunch. After lunch depart for Ngorongoro Crater, arriving at your lodge in the late afternoon. The lodge is located on the crater rim and enjoys spectacular views and sunsets. Dinner and overnight at  Rhino lodge Meals F/B.
Day 6: Half day Ngorongoro Crater Tour – After village tour
Today you'll depart early on a morning game drive down into the crater. Discover the diverse areas of forest, swamp lands, lakes and open grasslands in this volcanic caldera that's home to the densest concentration of wildlife in Africa. There is good game viewing year-round, as most animals do not leave the crater. You might also spot Maasai tribesmen guiding their cattle down the steep crater walls to graze. Return to the lodge for lunch and in the afternoon visit a Masai village for an insight into local life.Dinner and overnight at  Rhino Lodge.
Day 7: Transfer from Ngorongoro to Serengeti
After breakfast you'll set off for the Serengeti, stopping en route to visit Olduvai Gorge – a rich archaeological site where evidence of the first signs of human life was found. Travel on to the Serengeti's Ikoma Tented camp for lunch followed by your first game drive in one of Africa's most iconic wildlife-viewing areas. Hope to spot the national park's resident big cats as well as the Big Five amongst its rolling plains. Return to the camp for the night. This unique lodge is earthy in colour on the outside, with a flat roof offering the optimum spot for sun-downers, and houses a vibrant interior and spacious rooms. Dinner and overnight at Ikoma Tented Camp, Meals F/B.
Day 8: Game Drive in Serengeti
Today you will enjoy morning and afternoon game drives in the Serengeti. There's also the option for a hot-air balloon safari over the Serengeti plains. You'll rise early and take off at dawn in order to witness sunrise over the vast savannah. Dinner and overnight at  Ikoma Tented Camp, Meals F/B .
Day 9: Serengeti to Masai Mara Reserve
Wake up very early in the morning and embark into the safari jeep for the long distance drive to cross to Kenya using the Isabania Border and enter into the masai mara national park for spectacular view masai land , its the only long distance day.  Dinner and Overnight Mara AA Camp, Meals F/B.
Day 10: Game Drive in Masai Mara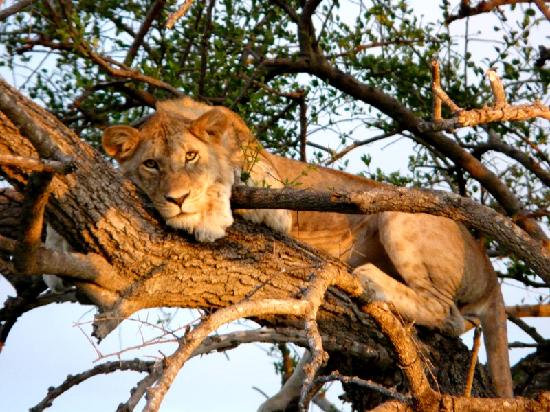 With almost every species of animal great and small in the park, this is one of Africa's premier wildlife areas and today we enjoy both morning and afternoon game drives in search of the Big Cats and the 'Big Five' (lion, leopard, buffalo, elephant and rhino).
Each year the Mara explodes into life, as the annual migration of great herds of wildebeest journey from the Serengeti to fresh pastures in the north. Between July and October the Mara River becomes the setting for the crossing of some 1.3 million animals, bringing with them the inevitable predators and the inevitable dramas. Dinner and Overnight Mara AA Lodge, Meals F/B.
Day 11: Drive to Nairobi – Evening Flight to Kigali Rwanda
After breakfast we depart for Nairobi through the towns of Narok and Mai Mahiu for lunch at the EKA Hotel. We freshen up and depart for our flight to Rwanda which will take about 1hr 30mins using Rwanda Air or Kenyan Airways. and Upon arrival at Kigali international Airport , you will be welcomed by the tour guide and transfer you to the hotel for dinner and overnight at Frame Tree Hotel/Discovery youth hostel, Meals F/B.
Day 12: Gorilla trekking in Volcanoes National Park.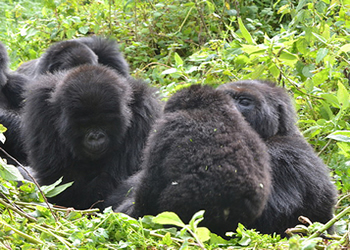 You will be picked by the tour guide from Primate Safari Experiences at 4:30 am early in the morning and transfer to Volcanoes national park arrive in the morning hours( the journey is always 2:15 minutes drive from Kigali to Musanze ) and head straight to the park headquarters for briefing about the gorilla trekking rules ( Dos and donts) as you enjoy the cultural dance performance and taking simple African coffee provided by the park , later jump into the safari jeep and drive to the starting point of your gorilla group that your going to trek in the park . Enter into the jungle forest to start the trek and search for the endangered mountain gorillas in africa's oldiest national park and once found you will be allowed to spend one hour watching them playing and feeding. Later transfer back to the park for gorilla trekking certificate , have lunch and drive to gisenyi for dinner and overnight at Lake kivu water front breach hotel, Serena Hotel . Meals F/B
Day 13: Nyiragongo volcano Hike.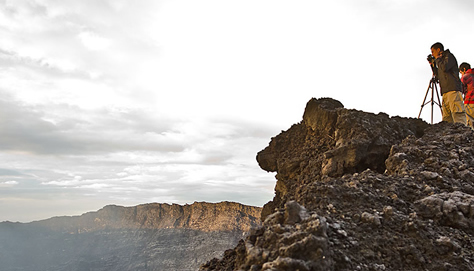 Wake up very early in the morning ready to cross the border for the most memorable safari activity loved by travelers in Virunga National park. we understand the congo border crossing may give you hard time but the guide will be there ready to help you cross the border smoothly and later,  you will be transferred to kibati the starting point for Nyiragongo Hiking and you should be there by 9:00am as the Climbing activity may last for 5-6 hours depending on the size of the group and the speed of the group hiking. All travelers booked with congo gorilla safaris will include mikeno package that will include all the important items to be used by hikers, Reach at the top and view the top lava crater of nyiragongo volcano. Dinner and overnight Nyiragongo Cabins Tented. Meals F/B.
Day 14: Descend Nyiragongo & Transfer to Gisenyi.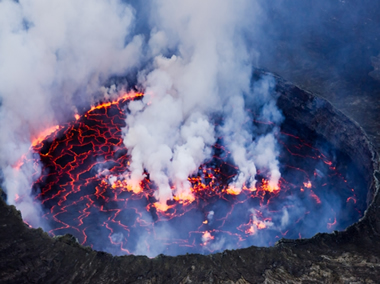 You will be offered simple breakfast by our chief from Mikeno lodge and start to descend down hill and reach at the starting point at around 11:00am and drive to goma( if lucky enough visit the congo caves in Goma) and later transfer to cross the border to Rwanda, Relax at the beach on lake kivu . Dinner and overnight at Lake Kivu Water front beach hotel, Meals F/B
Day 15: Transfer to Nyungwe forest national Park.
Wake up early in the morning and enjoy your breakfast , embark into the safari jeep and transfer to nyungwe forest national park for chimpanzee tracking . This is the ideal place for primates tour in Rwanda en route lunch  and arrive in the evening hour relax at the hotel as you may take nature walk. Dinner and overnight at Gisaku Hotel/ Nyungwe forest lodge/ Nyungwe hill top Lodge. Meals F/B
Day 16 : Chimpanzee Tracking in Nyungwe Forest.
After early morning breakfast, drive 1  hours journey as you go for chimpanzee Trekking, you may also take the different trails to visit various primate troops, enjoying the cool and breathtaking environment. After chimpanzee tracking , you will relax and visit the local communities , Dinner and overnight as above . Meals F/B
Day 17 ; Transfer to Kigali
On this day, you will wake up very early in the morning and have a cup of tea, then you will embark  to your safari jeep for the drive back to Kigali if time allows make stop overs to some genocide memorials in Rwanda and later be dropped at the airport Kigali for your flight back home.
Safari Includes
Park fees
Gorilla permits
All activities
All accommodation
A professional driver/guide
All transportation
Chimpanzee permits
Nyiragongo Hike permit
Nature Walks
Congo Tourists Visa
Safari Excludes
East African Tourists Visa ( it works for Uganda, Kenya & Tanzania)
Tanzania Visa
International Airlines and connecting flights
Luxury drinks
Porters