11 Days Rwanda gorilla trekking  & Rwenzori mountaineering Tour
Planning for gorilla trekking in volcanoes national park Rwanda and hiking mountain rwenzori? Book 9 Days Gorilla trekking in Rwanda and hiking mountain rwenzori national park in Uganda with Congo gorilla safaris. After Primate Safari Experiences realising that many travelers wish to hike to mountain rwenzori and its a time impossible to hike the mountain from congo side, we have tailored mountain rwenzori hiking adventure using the Uganda side.
Enjoy Mountaineering tour combined with Rwanda gorilla trekking on 9 days adventure vacation, and its available to group travelers and private individuals at the most competitive price and customized to fit in your budget.
Day 1:Transfer to Volcanoes National park & Gorilla Trekking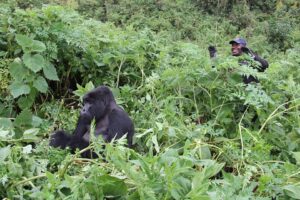 You will be picked up by the tour guide from Primate Safari Experiences from your hotel in kigali at 04;30am  and transfer to volcanoes national park in the northern province of rwanda for gorilla trekking, upon arrival in Musanze you will proceed to the park headquarter for briefing about gorilla trekking dos and donts, group allocation and registration to be done your safari guide, after jump into the safari jeep and drive to the starting point of gorilla trekking and later enter into the jungle forest to search for the mountain gorillas in the wild and once found you will have an hour to take photos and simple film and after return to the park for the issuing of gorilla permit certificate and return to the lodge for lunch and later visit the twine lakes , Dinner and overnight at Mountain gorilla view lodge/villa de gorilla hotel/ muhabura hotel meals F/B
Day2 :Transfer to Mountain Rwenzori national Park
After breakfast, embark into the safari jeep and transfer to Mountain rwenzori national park in Uganda passing through the queen elizabeth national park to enjoy the game drive in the ishasha sector to search for the tree climbing lions and later proceed to kasese town ( Mountain Rwenzori National Park) Dinner and over night at White house hotel/Virina Garden Hotel/Margherita hotel. meals F/B
Day 3: Transfer to  Nyakalengija base camp  up to Climb Nyabitaba (2650m)
Wake up early in the morning and have breakfast , jump into the safari jeep to drive to Nyakalengija at the foothills of Mt Ruwenzori for a briefing before starting a 5 – 6 hours climb up the mountain Rwenzori passing through thick equatorial vegetation cover arriving at Nyabitaba hut in the late evening for Dinner and Overnight.
Day 4: Hiking (John Matte)
After  morning breakfast embark on a hike through the Kurt Sharfer Bridge as you marvel at the sparkling Mubuku river confluence. This climb takes you through the open patches, lobelia, and heath moss forest before arriving at John Matte hut for your dinner and overnight.
Day 5: John Matte hut to Bujuku hut (3997m)
After a heavy breakfast, you will start off the hike to Bujuku River and enter the lower Bigo Bog that gives a real experience of jumping from tussock to tussock on a grassy bog. Then climb to the Bigo Bog dominated with scenic landscape of Lobelias and giant Groundsels. Dinner and overnight stop at Bujuku hut.
Day 6: Bujuku Hut to Elena Hat (4.540 m.)
After the morning breakfast, embark on a hike to the highest point of the Loop Trail, Scott Elliot Pass (4,372m), before sloping down to the two Kitandara lakes. Later descend to Kitandara Hut for an overnight.
Day 7: Elena Hat to margarita back back to kitandara camp (4.023 m)
On this day after morning breakfast you will embark on the journey to reach the peak of maragrita and descend back to Kitandara Camp for overnight stay.
Day 8: Kitandara Hut to Guy Yeoman Hut (3.261 m)
After Early morning breakfast , start again to descend down the hill to enjoy the view of the vegetation cover on mountain rwenzori National park. Sleep at the camp base on Guy Yeoman.
Day 9: Guy yeoman – Nyabitaba camp (2632 m)

Wake up early morning and start to descend again to reduce the distance and sleep at the Nyabitaba Camp which is closer to the ground .
Day 10: Nyabitaba – Base camp/ Nyakalengija:
Wake early morning for break fast and Continue to slope down the hill and find the tour guide at the base waiting for you and then jump into the safari jeep to transfer to bush lodge for a nice shower and in evening hours go for game drive, looking out for wild animals like elephants and Lions. Dinner and overnight at Bush Lodge/ Mweya safari lodge.
Day 11 Transfer to Kigali.
Wake early morning for break fast and  transfer to kigali using kabale road to kigali and lunch en route and arrive in kigali in the late evening for your flight back home.
Safari includes
Mountain Gorilla  Permits
Park Entrance to Mountain Rwenzori
Mountain Rwenzori Cooking Porter
Rwenzori hiking package
Drinking Water & En route Lunch
Accommodation & Meals
Game drive
Ground Transportation
English Speaking Guide
Safari Excludes
Flight to Rwanda
Rwanda Visa.
Porters during the gorilla trekking.
All personal expenses not listed in the itinerary above
End of the 11 Days Rwanda Gorilla & Rwenzori  Mountaineering  Safari.