Climbing Nyiragongo Volcano, Virunga Mountain Hiking Tours
Plan  climbing nyiragongo volcano in virunga national park with congo gorilla safaris the leading safari company in congo to offer safaris to virunga with 3 Days Nyiragongo volcano Climbing.
Mount Nyiragongo is an active strato volcano with an elevation of 3,470 metres (11,380 ft) in the Virunga Mountains associated with the Albertine Rift. It is located inside Virunga National Park, in the Democratic Republic of the Congo, about 20 km (12 mi) north of the town of Goma and Lake Kivu and just west of the border with Rwanda. The main crater is about two kilometers wide and usually contains a lava lake. The crater presently has two distinct cooled lava benches within the crater walls – one at about 3,175 m (10,417 ft) and a lower one at about 2,975 m (9,760 ft). Nyiragongo's lava lake has at times been the most voluminous known lava lake in recent history. The depth of the lava lake varies considerably. A maximum elevation of the lava lake was recorded at about 3,250 m (10,660 ft) prior to the January 1977 eruption – a lake depth of about 600 m (2,000 ft). A recent very low elevation of the lava lake was recorded at about 2,700 m (8,900 ft). Nyiragongo and nearby Nyamulagira are together responsible for 40% of Africa's historical volcanic eruptions.
In contrast to its neighbor volcano, Nyamulagira, – a typical and very active shield volcano comparable with Mauna Loa, – the 3470-m-high Nyiragongo displays the steep slopes of a stratovolcano. Terraces inside the steep-walled, 1.2-km-wide summit crater mark levels of former lava lakes, which have been observed since the late-19th century.
Two older volcanoes, Baruta and Shaheru, are partially overlapped by Nyiragongo on the north and south and look like lateral cones. About 100 parasitic cones are located primarily along radial fissures south of Shaheru, east of the summit, and along a NE-SW zone extending as far as Lake Kivu. Many cones are buried by voluminous lava flows that extend long distances down the flanks of the volcano.
Location of mount Nyiragongo
Mount Nyiragongo is located inside Virunga National Park, in the Democratic Republic of the Congo, about 20 km north of the town of Goma and Lake Kivu. It is one of the most active volcanoes in Africa, and one of eight volcanoes in the Virunga Mountains. The main crater is about 2 km wide and usually contains a lava lake which appears in the summit crater.
Eruptive History
1977
Drained Lava Lake, killed over 1,000 people because fast moving flows
1994
Rwandan refugees fleeing during the eruption caused a lot of destruction
2002
Lava flows through down town of Goma and reaches Lake Kivu, only to 150 km depth. The most recent large eruption of Nyiragongo occurred in 2002 where 147 people killed. During this eruption lava flows moved through the city of Goma on the shores of Lake Kivu destroying 13% of the city and approximately 12,000 to 15,000 homes displaced hundreds of thousands of people flows entered Lake Kivu and posed a threat of releasing the CO2 and CH4 stored within the lake.
Best time to Visit Nyiragongo Volcano

The Democratic Republic of Congo tends to experience two seasons, the dry and wet seasons therefore the best time to visit the Nyiragongo volcano is all year round but keep in mind there is unpredictable weather changes such as regular rains during certain months of the year because Nyiragongo is in the middle of equatorial rain forests. For example in mid-March to May and as well as November tends to be a rainy season, the dry season however begins in June – October and also December.
Climbing/ Hiking  Mount Nyiragongo
The ascent up Nyiragongo takes approximately four to six hours is backbreaking and habitually in humid and rough conditions, save for the trail is reasonably simple and not extremely steep; expecting to see rare species of birds and animals such as monkeys, bushbucks and chimpanzees alongside the track and the sight whilst you arrive at the apex, is eye-catching.
Climbing Mount Nyiragongo needs you to wake up early in the morning and  transfer to the Rwanda/Congo border post, you will cross into the Democratic Republic of Congo and drive on towards the Kibati patrol post at the base of Mount Nyiragongo, a mere 50km outside Goma.
After a safety brief and final check of everyone's packs and equipment you begin the climb towards Mount Nyiragongo's summit. The group will be lead and escorted by a set of rangers/guides and a small contingent of porters.
For the first two hours of the walk you will traverse a lush pristine forest, where towering trees offer a welcome shelter from the sun until you emerge from the forest onto a small plateau with commanding views that stretch towards the infinite horizon, with Lake Kivu, Bukavu, Rwanda and Burundi at your feet. You are now standing on the lava flow remnants of Mount Nyiragongo's 2002 eruption.
From here on, the climbing trail becomes firmer and the forest gives way to several swathes of recovering heath with vegetation dominated by ferns, sedges, heather and everlastings.  Shortly after noon, you will reach Mount Nyiragongo's crater and your overnight cabins.
In the afternoon you will spend it exploring the craters edge and soaking in the surrounding views and Mount Nyiragongo's' bewitching lava cauldron. Fortunately your guides know exactly how to reach the best observation and photogenic spots safely. When everyone has had enough, the group will return to camp to settle into their cabins, rest and enjoy an early supper.
At 18h00 you will return to a designated spot at the craters edge to gaze and appreciate again Mount Nyiragongo's molten lava lake. In the dark of night one is able to appreciate better the dark crusty surface of lava, spliced and splitting into ever changing plates. As the plates separate, bright orange lava fill the cracks and a fantastic spider-web pattern emerges. Every now and then fountains of lava flare up disrupting these pretty patterns, but adding a surge of dynamism and power to this spectacular sight, as you enjoy this this magical experience by taking pictures and videos living memories behind.
You do not need to be extra fit
The two days of Nyiragongo hiking are demanding. The most tiresome element are volcanic rocks that wobble under your feet but there is also the sheer distance and altitude factor. The good news is that you will not be in hurry. The trek is timed in a way that allows even a slow person to make it. You might take 7 hours instead of 4 but you will reach the crater and then have a night of rest before the descent. Your legs may hurt for some days afterwards but you will be fine.
The Summit Shelters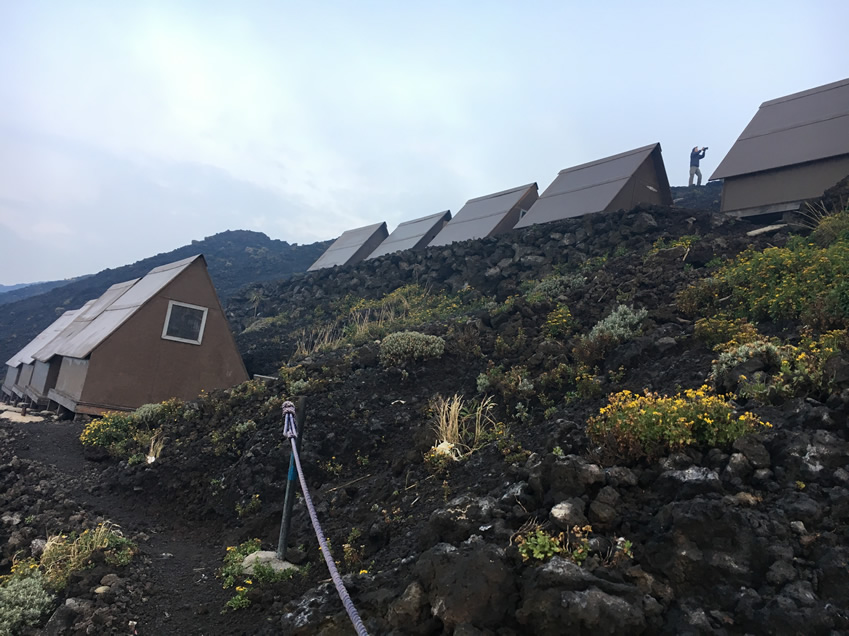 Accommodation at the top of Mount Nyiragongo is inside smallish triangular tents that are pitched inside rough a-frame buildings, some with doors, most without. The accommodation is very basic and has seen better days, but you'll be provided with a decent mattress and pillow (which I wasn't expecting at all) and it does the trick. The tents aren't huge and you'll be in close quarters with your tent buddy, especially since some of them seem to be built on a slight angle which means you'll roll into them (which is great for keeping warm!) This won't matter unless you're a single traveller since you might find yourself bunking with a stranger, possibly of the opposite sex. Something to keep in mind in case spooning with strangers isn't really your thing.
Visitors hiking to the summit have the option of hiring a cook and/or porters to carry their bags up the mountain, being on a budget we elected to carry our own bags and some food for the night up the mountain.
Clothes & Gear
rain jacket
rain pants
running shoes
heavy fleece
light sweater
thin stretchy pants
long underwear
4 pairs of socks
heavy sleeping bag
air mattress (they provide a mattress so I didn't need this)