Volcanoes National Park Rwanda, Gorilla Trekking tours
Explore Volcanoes national park Rwanda while on a rwanda safari holiday including gorilla watching , Golden monkey tracking and virunga mountain hikes in the great virunga ranges  with Congo gorilla safaris . Volcanoes National Park in Rwanda lies in northwestern Rwanda and borders Virunga National Park in the Democratic Republic of Congo and Mgahinga Gorilla National Park in Uganda. The national park is known as a haven for the mountain gorilla and its composed of five volcanoes (Karisimbi the 5th highest mountain of Africa, Bisoke, Muhabura, Gahinga and Sabyinyo).
Volcanoes National park is among the oldiest national park in Africa as it was  gazetted in 1925, as a small area bounded by Karisimbi, Visoke and Mikeno, intended to protect the mountain gorillas from poachers as this was evidenced more by the work of Dian fossey .
Volcanoes national park  later became the base for the American naturalist Dian Fossey to carry out her research  about the mountain gorillas. She arrived in 1967 and set up the Karisoke Research Centre between Karisimbi and Visoke. From then on she spent most of her time in the park, and is widely credited with saving the  endangered mountain gorillas from extinction by bringing their plight to the attention of the international community. She was murdered by unknown assailants at her home in 1985, a crime often attributed to the poachers she had spent her life fighting against. Dian Fossey's life later was portrayed on the big screen in the film Gorillas in the Mist, named after her autobiography. She is buried in the park in a grave close to the research center.
How to get to volcanoes National Park
Volcanoes National Park is located in a small village called Musanze previously well-known as Ruhengeri. This park is hosting almost all tourists visiting the world famous mountain gorillas. Musanze has long been the base point for gorilla visit and is cradled against a stunning backdrop of Karisimbi, Bisoke, Sabyinyo, Gahinga and Muhabura volcanoes. The city is rich is cultural tourism opportunities, caving, birding and fishing on the nearby lakes. The city is also only a 45- minute drive away from Gisenyi and the stunning Lake Kivu.
Things to see and activities to do in volcanoes National Park
In Rwanda Volcanoes National Park, gorilla trekking is the main pull; other activities like golden monkey trekking, bird watching are equally fascinating.  Scaling or Climbing Karisimbi, Climbing Bisoke, Climbing Muhabura are activities that you can participate in.
When to go gorilla trekking
It doesn't matter when you want to see mountain Gorillas, you can see gorillas all year round. Most visitor take on month from June to October and then December to February since this is the time of the year where it does not rain heavily. During the peak season, July and August, the permits are always on high demand so booking the trip 3 months to your trekking date is very important.
Cost of a gorilla permit in Rwanda
The actual cost of a Rwanda gorilla permit is 1500 $$$ per person per trek  and this is the most expensive gorilla permit for travelers visiting mountain gorillas in Uganda & Congo as its cheaper in those two countries compared to Rwanda.
Gorilla trekking experience in volcanoes National Park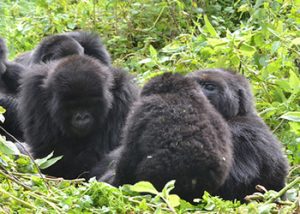 Gorilla trekking in this National Park is one of the thrilling magical experiences one can never miss on her trip to Africa. Looking straight in the eyes of a silverback, experiencing a close encounter with tranquil mountain gorillas is a gratifying experience that will remain memorable, neither is a hike through the moist fertile undergrowth, frequently dense with mist. However the challenges you go through while hike will all be forgotten when you set eyes for the first time on the Rwanda gorillas and the impression of affiliation is very overpowering. Habituated gorilla group can be visited by a maximum of 8 people in a day and the minimum age for visiting the gorillas is 16 years and this is the standard limit. It applies in Uganda and Rwanda and it is strongly enforced in all the National Parks. However there isn't a maximum age for gorilla seeing in Rwanda. It is such a great privilege to come face to face with our distant cousins.
Rwanda Gorilla Families Volcanoes National Park Rwanda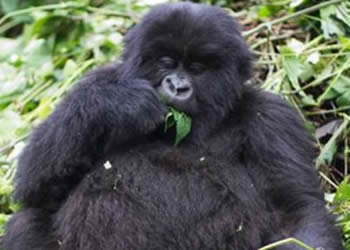 Gorillas are social animals staying in groups or families of 6 to 40 or more individuals. A family comprises of the Alpha male (called the silver back), subordinate males (Black backs), females, juveniles and young ones.  Each family has its own territory and a home range, where they forage for food.  Territories are aggressively or physically defended against male intruders. Territorial fights are fatal and may lead to the death of the territorial or alpha male.  Besides humans and diseases , a mature mountain gorilla has very few enemies.
Gorilla groups in Rwanda also called families are divided into two.  The study groups/ families which are accessible to scientists and the tourist groups/families which are open for tourist tracking.  The Study groups have the largest number of individuals.   Study groups include Beetsme, Pablo's, Shida's and Bwenge.  Besides these, there are seven(7) tourist groups-Susa, Sabyinyo, Amahoro, Kwitonda, Group 13(Agashya), Umubano and Hirwa.  Sometimes, these are joined by a migrant  group from Uganda.  Most of the potential gorilla trackers have diverse questions ranging from the best time to track, the existing gorilla families, accommodation facilities, when to buy permits, tracking rules and regulations and what to bring.  We will answer most of these questions and many more on request.
Dian Fossey Tomb Trail
Thanks to Dian Fossey, a researcher who was buried at her research centre alongside these mountain gorillas to which she dedicated her life. The trail heading to her tomb and Karisoke Research Centre is a beautiful one yet challenging 1 hour 45 minute hike up steep slopes where orchids, birdlife and even occasional mountain gorillas can be seen.
Golden monkey
Trekking the golden monkey through the bamboo forests they live in, is another unique experience. The golden monkey is an endangered species. Once spotted Watching them you will realize how aptly named playground equipment such as monkey bars and jungle gyms are; only here the equipment is bamboo. Seeing these endangered animals in their natural habitat is worth an extra day in the area. There's only one tour per day for the monkeys and one overlapping tour for gorillas, so you can't visit both the big and small primates in the same day.
Mount Bisoke
Hiking to the Crater Lake requires four hours up a steep trail from the Bisoke departure point to reach the summit. The walk around the Crater Lake rim is highly recommended. Allow seven hours for the entire trip. Lake Ngezi, a small, shallow crater lake, is the easiest hike in the park. It takes 3-4 hour round trip from the Bisoke departure point.
Karisimbi volcano hike
Karisimbi mountain name in Kinyarwanda means ''white shell", which refers to the white capped summit which is often seen, Karisimbi is the fifth highest mountain in Africa which is a 2 days hike. The climb starts early in the morning and takes 6 hours. You will climb further via the Bisoke side, before reaching the first stopping place at an altitude of 3,700m for overnight (camping)
What to bring and wear when in volcanoes National Park
Volcanoes National Park is both hilly and cold.  The grounds are usually wet and the paths are full of stinging-nettles.  Besides, the rains are random. Thus proper preparation is important in terms of dressing and equipment's. Please bring the following items with you,
Long trousers/ pants to avoid stinging nettles. The trousers must be strong enough to withstand occasional pulls from thorns.
Long sleeved shirts/ t-shirts. To avoid stinging nettles
Gloves- These are required to avoid injury to your hands. Remember the grounds are wet and slippery.
Hiking boots- Please bring average waterproof sturdy walking boots reaching ankle level not mountain climbing boots. Something light and hardy will do.
Warm cardigan- Volcanoes can get extremely cold. A warm cardigan is required to keep off cold.
Long sleeved Rain Coat or anorak -it can rain anytime in Volcanoes National Park even on hot days. The downpours are heavy and extremely cold.
Water proof container for your cameras. Yes I know there are waterproof cameras but even they to be sure just put them in a waterproof container. When you are slipping and falling in muddy grounds you do not want your precious photos damaged nor do you?
If you desire headgear (hats), a baseball cap is recommended as gorillas are familiar to them.
Enough water- minimum of 2 liters of drinking water to avoid dehydration. Carry four just in case the hike proofs longer than expected. Sometimes it can be 8 hours.
Film Camera- A film camera for domestic use is recommended.
A camera
If you are interested in birds, you can bring Field guide to birds of East Africa by Fanshawe and a pair of binoculars.