4 Days Mikeno Gorilla Mist Expeditions – Congo Trekking tours .
Congo Gorilla Safaris as introduced new gorilla Adventure tours to explore the mountain gorillas  in Virunga , Climbing the world's largest lava lake in democratic republic of congo for a memorable safari experience of what congo has to offer with chances of extending to visit the kahuzi biega eastern lowland gorillas in the mist of Congo .
4 Days Mikeno Gorilla mist expeditions tour can start from Kigali or at the Rwanda Border ( Grande Barriere) and you start to adventure the lovely eastern democratic republic of congo for an expeditious Safari of the mountain Gorillas & Nyiragongo Volcano . 4 Days Congo gorilla tour includes two nights at Kibumba Tented Camp & Nyiragongo Volcano Summit shelters on the top of the lava Lake of Nyiragongo.
4 Days Congo Gorilla Mist Trip Summary
Day1 : Pick up at Grande Barriere border
Day2: Gorilla Trekking in Kibumba Sector
Day3: Hiking Nyiragongo Volcano in Great Virunga
Day4: Descending and Transfer to the border
4 Days Detailed Gorilla Mist Expeditions & Climbing Nyiragongo Volcano.
Congo gorilla safaris advises its clients that will be flying to Kigali international airport before the start of their safari in Virunga National Park. Contact us to book you an airport transfer from Kigali to Congo Border.
Day 1 Pick up from the Border of Rwanda and Congo
Upon arrival at  Congo border of Grande Barriere , Congo gorilla safaris Guide will ensure that your checked-in with Virunga tourism office. Later the guide will transfer you to the Kibumba Tented camp for dinner and overnight. You will relax as you will be watching the great Virunga Mountains like Nyiragongo ,Mikeno mountain and watching the wilderness of Congo mountains.
Day  2; Gorilla trekking in Virunga National Park
After an early breakfast at Kibumba Tented Camp, trekkers will head down the hill to meet their Ranger guides and have a briefing before the gorilla trek. Treks usually require 1-2.5 hours of hiking each way, depending on location of the gorilla group being trekked and the difficulty of the terrain. After spending the allotted hour with the gorilla family group, trekkers will make their way back to camp, enjoy a late lunch and have the rest of the day at leisure, including time for nature walks and bird watching.
Day 3: Climbing Nyiragongo Volcano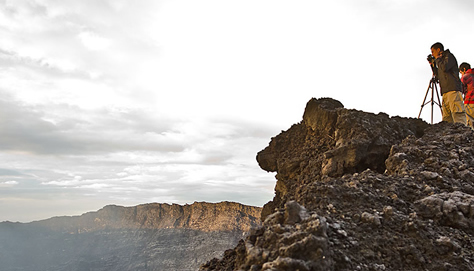 After breakfast in Kibumba, guests will be transported to the Kibati Ranger Post at 8:15am, departure point for the Nyiragongo volcano trek. On arrival to Kibati, guests will receive a briefing and will have the opportunity to hire porters. The climb up the volcano will take around four to six hours and trekkers will overnight on the summit.
Day 4: Descend & Transfer to Rwanda Border
In the early morning, guests will leave the crater rim and start the descent back to Kibati. Average descent time is four hours. Once at the bottom, guests will be transported back to Goma with drop-off at the Grande Barriere.
| | | |
| --- | --- | --- |
| 1 Pax | 2 pax | 3 Pax |
| 1488 USD | 2636 USD | 3704 USD |