7 Days Congo Gorilla Safari- Gorilla Trekking Tours
Plan an Exploratory 7 days congo gorilla safari tour to visit the mountain gorillas, Climbing nyiragongo Volcano & Eastern lowland gorillas in the wilderness of congo national parks.Travelers wishing to explore the apes of democratic republic of congo, start the trip from either goma international airport or Kigali international airport with Ethiopian Airline.
Planning for primates tour in congo to visit the eastern lowland gorillas & Mountain gorillas  with hiking Nyiragongo volcano on congo safari? Book 7 Days Congo gorilla tour with congo gorilla safaris to enjoy gorilla trekking in Kahuzi Biega national park & virunga national park.
Find the unique customized 7 Days congo safari tour or alternative 9 Days congo gorilla trekking Odzala at Primate Safari Experiences with reliable staff ready to make your african primates safari a lifetime tour.
Safari Summary : 7 days Congo Gorilla Trekking Safari
Day1 : Transfer from Kigali Rwanda to Bukavu Congo.
Day 2: Eastern Lowland Gorilla Trekking in Kahuzi Biega National Park.
Day 3: City tour of Bukavu & transfer to Goma.
Day 4: Chimpanzee Tracking in Virunga National park.
Day 5: Mountain Gorilla Trekking in Virunga National Park.
Day 6: Climbing Nyiragongo Volcano.
Day 7: Descending Nyiragongo Volcano & Transfer to Kigali.
Detailed Travel Plan for 7 Days Congo Gorilla Trekking & Nyiragongo Climbing Tour.
Day 1:Transfer from kigali to bukavu Congo

You will be picked by the company  driver guide from the hotel  and start to drive southwards to Cyangugu boarder on the way to Bukavu in Congo have lunch at (Butale Ibis hotel) and  continue cross the boarder  to Bukavu, Incase time allows visit some genocide memorials in Rwanda. Dinner and overnight at Orchid safari Lodge/ Roby Guest House.
Day 2: Eastern  Lowland Gorilla tracking tour in Kahuzi Biega South Kivu
Early morning after breakfast, drive for 1 and half hour  to Kahuzi Biega National Park for briefing  about the dos and donts while on eastern lowland gorilla trekking in the jungle and after enter into the forest to search for the primates and this activity can last for 2 -6 hours depending on their movement,once found you will spend one hour with them to allow you take photos and videos. After tracking. Return to the hotel for dinner and overnight.
Day 3: Transfer  to Goma
In the morning, you will go for city tour of bukavu visiting the oldest church in democratic republic of congo as your waiting for the speed boat to arrive from Goma at orchids Safari lodge , you will have breakfast at the lodge and then jump onto the speed boat and take a 3 hours journey on lake kivu connecting to Goma Town ( lac  Kivu hotel for lunch ) . After lunch you will jump into the safari jeep and start to explore the great Virunga Mountains while driving to Mikeno Lodge .
Day 4: Chimpanzee trekking in Virunga National Park
Early Morning Breakfast, you will be briefed about the chimpanzee trekking rules and regulations and after you will enter into the jungle to search for the chimpanzee. Chimpanzee tracking normally lasts for 30 min-1 hour in the morning hours later return to the Lodge for Lunch and later  in evening hours you will visit the gorilla orphanage centre in Congo after transfer to Bukima Tented Camp the best destination where gorilla trekking in congo starts from . The Clients that like to enjoy longer sleep on the gorilla trekking day are encouraged to book their overnight at Bukima Tented camp Since gorilla trekking is done at bukima Side.
 Day 5: Mountain Gorilla Trekking in  Virunga National Park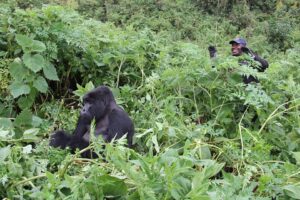 Congo gorilla Safaris has the required expertise in offering great gorilla trekking experience in virunga national park for both elders and young travelers. The Safari guide will pick you from the hotel after your morning breakfast, and transfer to the briefying point as he will have registered you. After breifying you will go into the journey and start the search for the endemic gorillas and the walk is likely to take around 1-2 hours and it can be more where they spent their last night and the feeding season. once found you will be given 1 hour to take photos and stay with the mountain gorillas in the wild as you watch them play with the young ones and feeding, After return to the park headquarters, transfer Kibumba Tented Camp.
Day 6: Climb Nyiragongo Volcano in Virunga National Park.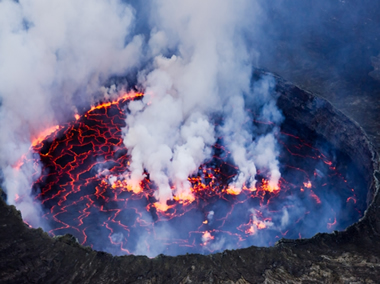 After morning breakfast at the lodge, you will transfer to kibati Station the place where all nyiragongo hikers will be waiting from , the guide will register you, and later  select the mikeno package for you ( Incase you requested for it and paid for it) Although Congo gorilla Safaris recommends that Mikeno package is of great importance and dont think its a wastage of money to book one. Climb Nyiragongo volcano through an impressive rain forest, the climb continues on the lava eruption fissure, reach the summit. Have the whole evening to enjoy the view from the crater and watch the lava inside. Dinner and Overnight in shelter at the crater.
Day 7: Descend to Goma- Rwanda
After Morning breakfast, you will descend to Goma and arrive at Kibati in the Afternoon around mid-day and transfer to Goma for lunch and later transfer to Kigali international airport for your flight.
End of 7 Days congo gorilla safari .
Safari includes
Eastern lowland Gorilla  Permits
Nyiragongo hike permit
Mountain gorilla permit
Chimpanzee Tracking permit
Accommodation & Meals
Drinking Water & En route Lunch
Ground Transportation
English Speaking Guide
Congo Tourists Visa
Safari Excludes
Flight to Rwanda
Rwanda Visa ( apply for Multiple entry Visa)
All personal expenses not listed in the itinerary above