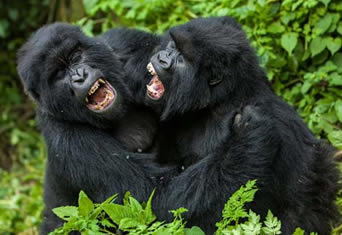 Congo Gorilla Trekking Guide
Congo Gorilla Trekking Guide , Congo Gorilla Tours & Safaris : Tour Congo.
Adventure is worthwhile., plan a gorilla trekking tour to visit Congo : Ultimate Guide to Congo with Experts of Congo Gorilla Safaris.
Welcome to Congo gorilla trekking guide for Congo gorilla safaris, the reliable source for all facts about gorillas in Democratic republic of congo while planning for a memorable gorilla safari in Africa with Congo gorilla safaris ( Ultimate Gorilla Expeditions) the most reliable Safari company based in Uganda and in Bukavu congo for offering gorilla trekking tours during your travels in the wilderness of Tropical central African Countries .
We present you the most updated resource page for all gorilla trekking deals in congo , gorilla permits in congo, discounted permits in congo , nyiragongo hiking permits, Congo gorilla trekking safaris, Congo hiking tours, climbing nyiragongo volcano, mountain gorillas in Virunga , Eastern lowland gorillas in kahuzi Biega national park .
Facts about Congo ( Democratic republic of Congo )
In Democratic republic of congo , mountain gorillas ( Virunga National Park) & Eastern lowland gorillas ( kahuzi Biega National Park & Maiko National Park are listed under the UNESCO heritage sites and listed as critically endangered species that can be visited in congo while on a congo gorilla safari, except for the mountain gorillas which can also be viewed in Uganda's two national park ( Bwindi impenetrable forest national park , Mgahinga national park ) Rwanda in Volcanoes national park with the most expensive gorilla trekking permit. When comparing the best destination to go for gorilla trekking between Uganda, Rwanda & Congo , i would recommend any traveler to select gorilla trekking in congo as its cheaper and more discounted compared to Rwanda gorilla trekking.
How much is Congo gorilla trekking permit
ACongo Gorilla trekking permit is a special pass offered & sold by ICCN which is the body responsible for all congo national parks , and in congo there is always discounted gorilla permit deals although the cost of the gorilla permit is required in order for you to access the watching of the apes in the wilderness. In virunga National park congo secure the gorilla permit in order to access & see the mountain gorillas, in kahuzi biega national park secure the gorilla permit to access the Eastern lowland gorillas.
A Congo gorilla permit costs USD 400 also includes the entry into the national park, the ranger guides who will accompany you, the one hour adventure with the gorillas &  taxes.
You can now take the deep breath and enjoy the eventual guide to Mountain gorilla trekking & Eastern lowland gorillas on a mega Congo safari tour on the

10 Days Gorilla trek Africa

Find all the special discounted on Congo gorilla permits when your tracking the gorillas in kahuzi Biega national park & Virunga National Park as Congo gorilla safaris will see how to make the trip a special offer, but for rwanda gorilla trekking permits goes for $1500 and there is no discount even the same applies to Uganda here the gorilla permit is costing USD 600 .
How safe is Gorilla trekking in Democratic republic of congo
Despite the fact that many tourists since the closure of Virunga national park in may 2018, travelers stopped considering gorilla trekking in Congo's virunga national park  and they forgot that kahuzi biega national park is open for gorilla trekking and Congo gorilla safaris is offering those the trips to Eastern lowland gorillas with overnight stay in Bukavu or Kahuzi biega safari lodge .
Democratic republic of congo is a safe tourist destination, in the last years, the southern sector of Virunga National Park has been considered safe for visitors who need to do gorilla tracking in Congo with more than a 100 tourists visiting these sites every month.
As its well recorder and known that democratic republic of congo is a home to over 250 habituated mountain gorillas and the rare, only found in congo the eastern lowland gorillas, Congo gorilla safaris has been offering congo gorilla trekking tours for the last 6 years and it has found it safe to visit the gorillas in congo . Once the client decided to enjoy the Gorilla trekking in congo , it comes with an extra advantage of visiting other primates and climbing nyiragongo volcano as safari add on during the congo safari tour.  Other destinations that are safe for gorilla trekking is the Mgahinga National Park & Volcanoes National Park which are all park of the greater Virunga Mountains.
Democratic republic of congo Gorillas & Accessibility.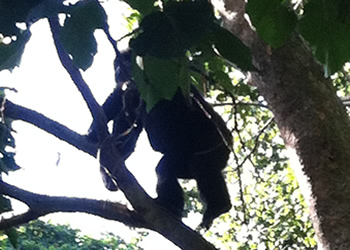 When it comes to planning an Africa safari holiday, it all starts with accessibility and the ability to connect from one destination to another tourists destination. The Destination experts from Congo gorilla safaris have traveled the entire eastern Congo including the south and north kivu which they are specifically offering gorilla tours & climbing adventures lead by informed & knowledgeable guides of the company , then for connection between south and north kivu we do by use of speedboat.
All gorilla trekking tours offered by Congo gorilla safaris ( Ultimate Gorilla Expeditions LTD ) can start from Kigali Rwanda or from Goma for those clients flying with Ethiopian Airlines . D R Congo is mostly access via Gisenyi from Rwanda crossing into Goma for those going to virunga national Park for mountain gorilla trekking & Nyiragongo Hike  yet for those going for the eastern lowland gorilla trekking & Chimpanzee Tracking in the lwiro chimpanzee sanctuary which is part of great Kahuzi Biega National Park normally use the Rusizi border.
How much is the congo Tourists Visa.
Among the hard to get when planning to congo tour is the congo visa due to the fact that there is no online applications systems for the congo visas and not all countries have embassy for congo. If you plan to tour congo the best way is select the travel company as Congo gorilla safaris.
Once having booked your congo tour with Congo gorilla Safaris, a  Congo tourists Visa is always included in the quotation once the reservation team mentions that the visa to congo is listed among the includes , Congo gorilla Safaris that works in partnership with Virunga Foundations , Kahuzi Biega National Park  and they charge for tourists visa is $$$150 and should be applied for at least 48 hours in advance and its only valid for a period of 14 Days single entry , valid within the Eastern Congo ( South Kivu and North Kivu).
Where to go for Gorilla watching experience
As its well known that Africa is best home for all primates ranging from Cross river Gorillas, Western lowland gorillas, Eastern lowland gorillas & Mountain gorillas which all these primates can be found in east African countries like Congo , Uganda , Rwanda and Central African countries like Gabon Gorilla trekking , Cameroon .
Just like all 3 locations in central and east Africa where gorilla tourism takes place, gorilla trekking in Congo is a strictly run gorilla conservation project based on gorilla protection and safety. The guide, trackers, armed guards to protect against threatening elephants and porters lead visitors to where a family of the gorillas is located.
Gorilla Permits into Congo cost $400 Per Person, which today stands as the cheapest option to see gorillas in their natural habitat.
Congo gorilla trekking offers a cheaper alternative for tourists to meet the rare mountain gorillas and fulfill a life time adventure. It's possible for a visitor to visit gorillas in Congo on just a 2 day itinerary program from Gisenyi crossing through Goma city. Or even more days if interested.
The Democratic Republic of Congo is the only country which offers both mountain gorillas and lowland gorillas which can be tracked in Kahuzi-Biéga national park.
Congo Gorillas can be visited anytime of the year, however some paths are hard to navigate during the wet seasons of (May/April and November & October), in this season, Congo gorilla trekking permits are reduced to ($350) per person.
The dos and don'ts of Gorilla trekking in Congo
If the tracker is sick or has any infections is not allowed to come in contact with the gorillas.
Always turn away your face while coughing or sneezing and remember to cover the nose as well as the mouth to help reduce on the bacteria transfer to the mountain gorillas.
Don't over stay with the gorillas it's usually one hour that is allowed.
It's recommended that you stay away from mountain gorillas between 5 to 7 meters because they are wild animals and can easily catch diseases from humans.
Trekkers are supposed to keep noise levels as low as possible, avoid pointing or using flash light when taking photos of the mountain gorillas.
Remember to always carry water proof & warm gears for the cool conditions within the mountains since it sometimes gets wet within the forest and comfortable walking shoes are of a great advantage.
Keep hands intact- don't touch the mountain gorillas at any time, always keep hands to yourself to avoid direct contact.
Avoid littering within the forest and keep the trash to yourself
Always remain calm– Avoid direct eye contact in case the gorilla charges and stay calm until it moves away.
Toilet manners: A ranger will be willing to dig a hole for you and after make sure it's fully covered.
Note that on the way to the gorillas:
Keep your voices low. You will also be able to observe the great bird life and other wildlife in the forest.
DO NOT litter rubbish in the park. Whatever you bring into the forest should be carried back out with you.
The guides will inform you to get ready when you approach the mountain gorillas
Eastern Lowland Gorillas in Congo  ( Kahuzi Biega & Maiko )

The Eastern lowland gorillas are only and only found in Democratic republic of congo which is among the top endangered species of gorillas found in Africa apart from the Mountain gorillas only also visited in the virunga Mountains, Bwindi Impenetrable forest national park in south western Uganda.  Important populations of Eastern Lowland gorillas live in the kahuzi Beiga and Maiko National Park.
Eastern lowland gorillas & Mountain Gorillas range have declined by at least a quarter over the last 50 years. The last census, in the mid-1990s, estimated that there were only 16,900 of the animals left in the wild, but following more than a decade of habitat destruction and fragmentation and years of civil unrest, the eastern lowland gorillas' population may have declined by half or more.
Learn the Differences between Eastern Lowland Gorillas  and Mountain Gorillas
The Main difference between the mountain gorillas & Eastern lowland gorillas is distinguished from other gorillas by its stocky body, large hands and short muzzle. Despite its size, eastern lowland gorillas subsist mainly on fruit and other herbaceous materials, just like other gorilla subspecies.
Although the hair is shorter on the head and body. The male's coat, like that of other gorillas, turns silver at the back as the animal matures. There are many more western lowland gorillas than the eastern variety; compared to over 100,000 western lowland gorillas, there were only about 5,000 eastern lowland gorillas in the wild in a 2004 report and fewer than 3,800 in a 2016 one. Outside the native range, only one female lives in captivity at the Antwerp Zoo in Belgium.
The eastern lowland gorilla makes its home in lowland tropical rain-forests in the eastern DRC. In the last 50 years, its range has decreased from 8,100 square miles—about the size of the state of Massachusetts— to about 4,600 square miles today. This subspecies may now occupy only 13% of its historical range.
Behavior of Eastern Lowland Gorillas
Eastern lowland gorillas are highly sociable and very peaceful, living in groups of two to over 30. A group usually consists of one silverback, several females and their offspring. Silverbacks are strong and each group has one dominant leader.
These males protect their group from danger. Young silverback males will slowly begin to leave their natal group when they reach maturity, and will then attempt to attract females to form their own group. Most primates are bonded together by the relationship between females, a pattern also seen in many human families.
Once they reach maturity, both females and males usually leave the group. Females usually join another group or a lone silverback adult male, whereas males may stay together temporarily, until they attract females and establish their own groups. It is commonly believed that the structure of the gorilla group is to prevent predation.
Threats to Gorillas in Africa.
In Africa where primates reside there are a numberly of threats that have caused the primates to be called Endangered Species and this has caused international organizations  & Congo gorilla Safaris to start up campaigns for gorilla conservation in their Homes . Among the Top threats are the following.
Habitat Loss and Fragmentation
As humans have moved from high-density regions in the East into the gorilla's territory, they have destroyed and fragmented much of the animal's forest habitat to make room for farming and livestock. Only a small portion of the gorilla's range lies in protected areas such as Kahuzi-Biega National Park. But even there, park rangers often find it difficult to patrol the borders and protect the gorillas.
There are few protected areas within the eastern lowland gorillas range. Due to civil unrest, its stronghold, Kahuzi-Biega National Park, is under severe threat from poachers and encroachment, and it has been very difficult for park guards to patrol borders in this region.
Hunting and trade.
The trade in bush meat, which occurs over much of the eastern lowland gorillas range, May now be more of a threat than habitat loss and degradation, but the number of gorillas killed annually is unknown.
The influx of people into Kahuzi-Biega National Park has also resulted in an increase in bush meat hunting.
Gorillas are also sought after as food and pets, and their body parts are used in medicine and as magical charms.
Gorillas do not eat banana fruits, but they may destroy banana trees to eat the nutritious pith. Farmers who have come in contact with gorillas in their plantations have killed the gorilla and obtained a double benefit, protecting their crop and using the meat of the gorilla to sell at the market.
Conflict & instability
civil conflict and political instability have left the Congolese National Parks network in a state of dereliction, hampering the effective conservation of the eastern lowland gorilla.
Logging.
Illegal logging may occur from companies with no rights to the land or by legal landholders. Over-harvesting is an illegal practice often conducted by legal concession holder and encourages deforestation and illegal resources exportation. The areas logged are prime gorilla habitat and is considered an international concern
Mineral Mining in Congo Parks
Illegal mining for tin, gold, diamond and, especially, coltan—an alloy used in cell phones—is widespread throughout the eastern lowland gorillas range. This mining has helped to fuel the civil unrest in the region and attracted migrants who hunt the animals for bush meat, medicine and the capture and trade of infant gorillas.

Read More from this article of Mining in Kahuzi Biega National Park.
Guide on How to Plan A Congo Safari tour – Gorilla Trekking in Virunga & Kahuzi Biege National Park
Planning your Congo gorilla trek? Perfect!on this post , we present the most updated tips on how to plan a gorilla trekking to Congo either on Last minute option , you'll learn what to expect, the best time to go, prices, and how to choose. Which gorilla Species to visit in Congo as it has Mountain Gorillas & Eastern lowland gorillas.
What should you bring on your gorilla trek? Don't forget anything with our
Find the complete list of Africa Packing list for gorilla trekking tour in Congo , Rwanda and Uganda booked with Congo Gorilla Safaris aka  Ultimate Gorilla Expeditions.
How to Choose a Congo Gorilla Trek
The best question that every traveler that wishes to explore Gorillas in Congo will have to know what gorilla species to visit, as its well known that democratic republic of congo has both the mountain gorillas & Eastern Lowland gorillas all in the eastern park of congo ( North Kivu and South Kivu)
The Top destinations for Gorilla trekking in congo are Kahuzi Biega National Park in South Kivu & Virunga National Park in North Kivu. However Congo gorilla Safaris tailor  trips that include mountain Gorilla trekking & Eastern Lowland gorilla trekking tours at the most affordable Price , Read More about Congo Safaris
What To Expect on a Congo Gorilla Tour
Congo Gorilla treks tailored by Congo gorilla safaris are guaranteed to spot gorillas as the great efforts done by ICCN and staff of the park ( kahuzi Biega National Park & Virunga Foundations ) with experts who know how to give you the best chance to see them.
When the day arrives, it usually starts at a designated meeting point. Some treks begin directly from here while others meet up at a spot further away. You don't always know which your tour will be.
It can take anywhere from one to five hours to locate the gorillas and sometimes longer. The groups are mobile because gorillas are vegetarian and must travel vast distances to keep up with nutrition demands. The guides must track their movements through their usual territories. This can take quite a bit of time considering that the guide is also leading a group of people through the forest.
Once you find the Gorilla family, you spend about an hour watching if its gorilla trekking and those who paid for Gorilla habituation  from a safe distance. Any longer has the potential to cause agitation and danger. Tours are not allowed to eat anywhere near the gorillas, nor are groups permitted to feed the gorillas. There is no flash photography allowed. Learn About the difference between Gorilla Habituation & Gorilla trekking tours .After the hour is up, the guide leads you back to the meeting point, and you head back to your accommodations.
If you have questions about an Congo Safari tour for Gorilla trekking , Climbing Nyiragongo Volcano or Africa safari please fill out Our form or call us +256392159498.