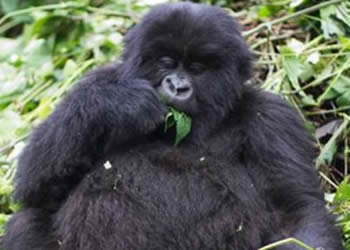 Gorilla Groups in Bwindi Forest National Park, Gorilla Trekking Uganda
As Gorilla trekking is among the safari activities to be done in Uganda while on a Uganda Safari holiday , Explore the various mountain gorilla families that will be visited during the gorilla trekking safari in Uganda.
Bwindi Impenetrable National Park is located in south-western Uganda and has 11 habituated gorilla families available for tracking to tourists. These groups vary in size or numbers. These families include:
Mubare family which was the first family to be habituated for tracking- The family name was got after the stunning Mubare Hills in which this group was discovered.
Habinyanja family .In the beginning, this family was very big however another family split from it and was named the Rushegura family.  These two groups crisscross each other now and again and co-exist peacefully. This gorilla family was first discovered near a swamp in Bwindi Impenetrable Park. The name Habinyanja comes from the local name for water "Nyanja
Nshongi family  which is currently the biggest habituated gorilla family in Uganda with 25 members , at the opening of the group for visitors after Habituation it comprised of 25, and 10 left to form another family  called the Mishaya family.
The Rushegura Gorilla family is one of the larger groups in the Buhoma area of the park.  Tracking this gorilla family is normally shorter because the gorillas normally stay around Bwindi park headquarters area.
The Oruzogo Gorilla family-This family can be tracked from the Ruhija area of Bwindi Impenetrable Forest – it is a larger group of 22 gorillas.
Bitukura Gorilla family-This is a unique family that is fast learning the Bitukura group originally consisted of 24 gorillas.
In order to track the Bitukura Gorilla Group, it is best to stay in the Ruhija area of the park, if you do stay in Buhoma – you have to leave quite early in order to make the gorilla tracking orientation in time.
The Kahungye Gorilla family is another Rushaga are gorilla family sizeable in number even after a recent split in the Family creating the new Busingye Gorilla Group. The Name Kahungye comes from a hill in the Rushaga area where the gorillas were discovered.
Busingye Gorilla family
This is a splinter family group from the Kahungye Gorilla Group
The Bweza Gorilla Family is an example of another family feud that leads another new gorilla family setting up household in the Rushaga area of Bwindi Impenetrable Forest.  The group has 7 strong members and two infants.  This group broke away from the Nshongi Family group because of too many feuds within the group at the end of 2013.
Nkuringo Gorilla family -This family is a larger group in the southern, scenic area of Nkuringo
Tracking the Nkuringo Gorilla family takes a bit more energy and courage.  This is probably the toughest trek in Uganda.
Despite the fact that the terrain is rough where the Nkuringo family is, many tourists and researchers have enjoyed the trekking activity.
Mishaya Gorilla Family is another one of those guerrilla groups. It can be tracked in the Rushaga area of Bwindi Impenetrable Forest