1 Day Congo Gorilla Trekking Safari Tour, Gorilla Watching Congo
Wishing to explore the mountain gorillas in Virunga National Park? Having tight schedule, Based in Goma Congo or Bukavu town , visit the mountain gorillas in Virunga National Park or Eastern Lowland gorillas in Kahuzi Biega National Park. Select the best congo gorilla trekking tours with destination experts in Congo that have been offering gorilla watching tours to Congo , Gabon safaris & Uganda Safaris with 1 Day gorilla trekking tour to Bwindi forest national park in southern Uganda.
Mountain gorilla trekking in democratic republic of congo will lead you to Parc de National Virunga with Congo Gorilla Safaris the leading congo safari company in offering gorilla tours to Congo. This 1 Day gorilla tour is mostly done by travelers that are already stationed in Goma Town in Eastern Congo in north Kivu.
Planning for mountain gorilla trekking trip in democratic republic of Congo? Primate Safari Experiences offers 1 day gorilla tours to virunga national park , its available for travelers that are staying near gisenyi Rwanda in the northern province of Rwanda.
Detailed Travel Plan for 1 Day Gorilla Safari Congo – Gorilla Trekking tour Virunga National Park.
This 1 day gorilla trek Congo will offer you gorilla watching experience in the wild of Africa, Book 1 Day gorilla safari to enjoy gorilla trekking on last minute minutes or hours depending on where the gorillas decide to rest from the previous day.
Travelers who have booked 1 Day Congo gorilla tour will set off at 6:60 am with an experienced tour guide of Primate Safari Experiences for a 1:30 Min drive to Virunga national park found in Congo which is part of Virunga Region which is the  habitat to endangered mountain gorillas. Upon arrival at the briefying point you will be guided by the head ranger guide about the rules and regulations for gorilla trekking , this is part of the effort by the virunga foundation to conserve the endangered Mountain gorillas in the wilderness of Africa.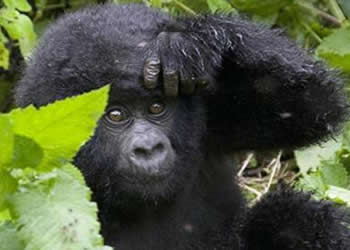 Travelers going for one day gorilla trekking experience they will be visiting the gorillas in Kibumba Camp side as there is a gorilla family that has been habituated for gorilla trekking and its a wonderful experience to select gorilla trekking in congo .
The gorilla groups are allocated to the guests at random at the park headquarters. However, our experienced guides have over time built a strong relationship with the park wardens. They normally talk to them before time and express the clients' interests in specific gorilla groups. They normally get a positive response over this.
The gorilla trek in the jungle of virunga mountains may last from 1-5 hours depending on the movements of the gentle Mountain Gorillas.
On return, your driver will transfer you back to Goma for drop off at your hotel or at the airport for a scheduled flight back home.
Learn About congo gorillas on the official congo gorilla trekking guide for more information about Apes