15 Days Rwanda Gorilla Safari & masai Mara Tour Kenya.
Planning to adventure the Kenya's best masa mara  national Parks for big five view combined with gorilla trekking in while on an African tour?Book 15 Days Gorilla safari and masai mara Kenya safari to enjoy wildlife viewing during the epic african journey. Gorilla safari holidays to Africa are one of the most spectacular up close and personal wildlife experiences: encountering the endangered mountain gorillas and lowland gorilla in congo will make the african journey a classic adventure holiday for you with congo gorilla safaris.
Day 1:    Arrive Nairobi; overnight in hotel.
Upon arrival at the Joma Kenyatta international Airport you will be welcomed by the Primate Safari Experiences guide and transfer you to the hotel for your dinner and overnight , relaxing as you might have had long flight from the home country to Kenya.If time allows the guide will take you through Nairobi to have a view of how night life in Africa look like.  Dinner and overnight at Panari Hotel.
Day 2:    Drive to Lake Naivasha.
Wake up early morning and transfer to Lake Naivasha arrive in time for lunch at the guest house and after lunch hours go for the visitation to the craters and islands, crescent Island or Crater Lake  and optional horse ridding and boat cruise are available.  Return in time for dinner and overnight at lake naivasha sopa lodge/lake naivasha simba lodge.
Day 3: Transfer to  Masai Mara; late afternoon game drive.
The Masai Mara, a vast grassland teeming with animals, has an astonishing amount and mixture of game, including lions, cheetahs and at certain times of the year, the wildebeest migration. Lake Nakuru National Park has an incredible variety of birds as well as a healthy population of White and Black rhinos.
Wake up early morning and have breakfast and visit the Longmont craters and later transfer to Masai Mara National Park in for the wonderful view of the Kenyan most loved national park by travelers and arrive in the afternoon to enjoy the game drive in the nearest wildlife trucks and return to the lodge for dinner and overnight at Miti Mingi Eco Camp. Meals F/B
Day 4:    Full day in the Masai Mara.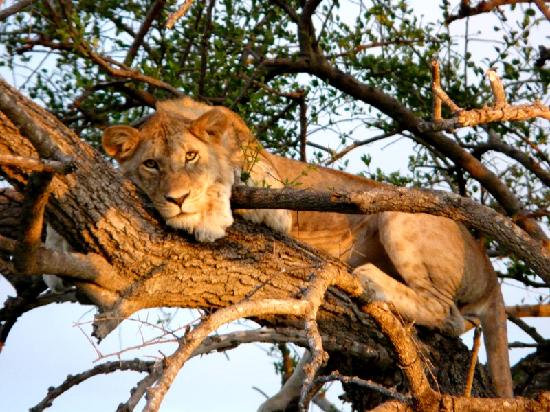 After breakfast we will proceed on a full day of game viewing within the reserve. The landscape here is scenic savanna grassland on rolling hills. The reserve is the best park for game in Kenya as it has an extensive road and track network which allows for close range viewing and photography. Break for your picnic lunch at the hippo pool, looking out for hippos and crocodile. Dinner and overnight at the camp.
Day 5:    Transfer to Eldoret.
Wake up early in the morning to enjoy the other game drive in the Masai mara as you search for other wildlife animals and later transfer to Eldoret to shorten the next days journey and enjoy dinner and overnight in sego safari lodge.
Day 6:    Transfer to Jinja Uganda.
Wake up early morning and transfer to jinja in Uganda and on this day you will cross the border and arrive at jinja to enjoy some safari activities like visiting the source of the Nile, falls and then return to the lodge for relaxation. Dinner and overnight Source of the smile Hotel, Boma Hotel/ Nile porch / Nile Resort. Meals F/B
Day 7:   White what rafting Half day and transfer to Mabira forest.
Wake up in the morning hours and go for the half day white water rafting at nile river, to enjoy the rafting on the longest river in Africa. And after the rafting activity you will transfer to Mabira forest to take a nature walk in the jungle forests. Dinner and overnight at Mabira Rain forest lodge. Meals F/B.
Day 8: Zip lining/ sky way in Mabira Forest.
Experiencing the Mabira Forest canopy just makes you behave like monkeys! The first of its kind in Uganda. The Mabira Forest Canopy Super Sky way is a canopy "zip-line" system that sends you soaring between the tallest trees in the rain forest. Griffin Falls Camp was created through several different grants and donations, orchestrated by Mabira Forest Integrated Community Organization (MAFICO) with the purpose of encouraging ecotourism and generating income to fund worthwhile projects and in afternoon take a nature walk in the forest. Dinner and overnight in Red chili hide away.
Day 9: Transfer to Musanze ( Volcanoes national Park)
Wake up early in the morning and enjoy your breakfast and transfer to Rwanda using Kisoro Border  and check in at the hotel in near the Park. Dinner and overnight Mountain gorilla view lodge/ Villa Da Gorilla.
Day 10: Gorilla Trekking in Volcanoes National Park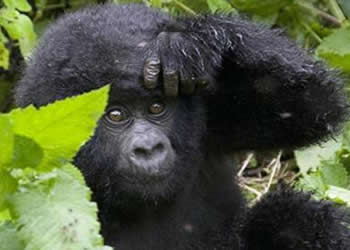 Have early morning  breakfast and  transfer to Volcanoes National Park and by 8:00 am you will be at the park head offices for briefing about the mountain gorillas  Dos and don't s , thereafter enter into the Jungle forest to search the Endangered mountain gorillas and this experience takes like 2-5 hours walking to reach the territory where the mountain gorillas are resting, then 1 hour with the gorillas taking photos and videos. Then after return to the park offices for your gorilla trekking certificate  and transfer to Gisenyi  reach in evening hours and if time allows go for boat cruise on Lake kivu.  Dinner and over night at Lake kivu water front breach/ Discover Rwanda youth hostel. Meal plan: F/B
Day 11: Transfer to Bukavu.
Wake early in the morning and embark into the safari jeep to transfer you Congo for the lowland gorilla trekking activity to be enjoyed the next day . The drive will take like 6 hours to reach bukavu crossing from ruzizi border and later enjoy the cultural dance at coco lodge as there is always musical performance of the Congolese dance and music . Dinner and overnight at Orchids lodge/ Coco Lodge . Meals F/B
Day 12: Eastern lowland gorilla trekking.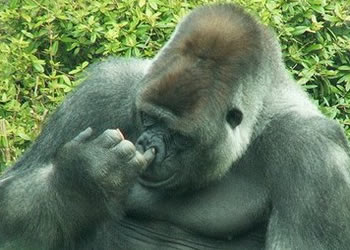 After early morning breakfast embark into the safari jeep and drive for 2 Hours to Kahuzi-Biege which is the starting point for these primates excursion. It is here that you will be briefed about gorilla trekking dos and don'ts before setting off into the forest to track gorillas in Kahuzi Biega National Park  for the incredible experience.
During the safari activity of gorilla trekking will be allowed to stay with the Eastern lowland gorillas for 1 hour for observation and photography as you watch them playing in the wild with their young one.  After this experience, you will return to the park headquarters where you will find the driver waiting for you and straight away you will be driven back to the border and Dinner and overnight at Nyungwe forest lodge.
Day 13: Chimpanzee tracking in Nyungwe forest national park
After early morning breakfast, drive 1  hours journey as you go for chimpanzee Trekking, you may also take the different trails to visit various primate troops, enjoying the cool and breathtaking environment. After chimpanzee tracking , return to the lodge for relaxation and in the afternoon go for canopy walk to enjoy the search for other primates in the jungle forest. Dinner and overnight at Nyungwe forest lodge.
Day 14 : Transfer to Kigali
Wake up in the morning and embark into the safari jeep to transfer  back to kigali and reach in the evening hours, where by you will visit the genocide memorials that are along that nyungwe road. Dinner and over night at Frame tree Hotel.
Day 15:  City tour and departure.
After the morning breakfast , the guide will pick you to go for the city tour of Kigali where you will have some shopping and later after lunch you will be dropped off to the airport .
End of the 15 Days Kenya , Uganda , Rwanda and Congo safari tour.
Safari Includes
14 breakfasts, 13 lunches and 12 dinners
All accommodation (see below)
All transport and listed activities
Tour leader throughout
Rwanda Gorilla permit (USD750)
Zip lining
White water rafting
Boat cruise
Game drives
Eastern lowland gorilla permit( USD 400)
Chimpanzee tracking Permit ( 90 USD)
Game drives and Nature walks
Safari Excludes
International Flights
East African Tourists Visa ( Uganda, Rwanda, Kenya, its recommended)
Rwanda Visa
cigarettes and all personal expenses not listed in the itinerary above
Porters