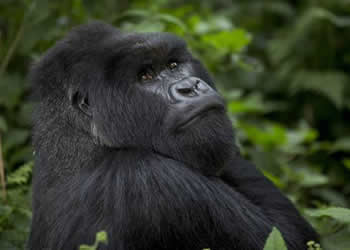 Attractions to Maiko National Park-Congo lowland gorilla Trekking

Maiko National Park is Congo's third most exciting congo safari destination for spotting and watching the eastern lowland gorillas in the entire world. After Kahuzi Biega national park , gorillas are found in the Steeped legend and history, the iconic Maiko National Park in Democratic republic of congo is waiting for you to explore its vast landscapes and spectacular Congo's wildlife & primates in the ituri forests, Okapi wildlife reserve sector is an extra safari add on destination to maiko National Park.
Plan your Maiko Park safari trip from our recommended Congo safari tour options, which range from exclusive private safaris to affordable group safaris in the wilderness of democratic republic with safari extensions to Rwanda's Volcanoes national Park & mgahinga National Park which are ranked in the top Safari parks that have developed accommodations for tourists to Use.
Maiko National Park Background Information.
Maiko National Park is among the second destination known for eastern lowland gorillas in the wilderness of democratic republic of Congo.Book Gorilla trekking tour for the maiko visit
Location of Maiko National Park
Maiko National Park lies in one of the most remote forest areas of the country and covers 10,885 km2 (4,203 sq mi) and is divided into three sectors covering  starting in states Nord Kivu, Province Orientale and Maniema.
Attractions in Maiko National Park.
Three of the country's spectacular endemic animals occur only in Maiko National Park and these include
Grauer's gorilla
okapi,
Congo peafowl.
Maiko National Park is an important site in democratic republic of congo for the conservation of the African forest elephant, eastern chimpanzee and the endemic aquatic genet, any travelers planning to go for congo safari to Maiko National park should include things to do including Gorilla trekking although its not officially opened.
Getting to Maiko National Park- How to Access Maiko Park
Maiko National park is approximately 515 kilometers from Kisangani town, there is a one road leading to small villages within the park from Bafwasende, the roads are not well established so make sure your vehicle is a4x4 and in good condition to handle the terrain of Congo roads.
Gorilla trekking in Maiko National Park

Among the top things to do in Maiko national park, Congo gorilla safaris tailors mainly gorilla trekking tours to Maiko National park for great encounter of the eastern lowland gorillas in the wilderness of democratic republic of congo. There are also a number of other primates that tourists can come across during their gorilla trekking some of the primates are: red tailed monkey, chimpanzees, okapi and many more it's said that gorillas in Maiko number up to 800.
Accommodation in Maiko National Park
Maiko national park has got very limited accommodation; most times travelers are advised to come with their camping gears and camp within the villages of the park or at any designated camping site.