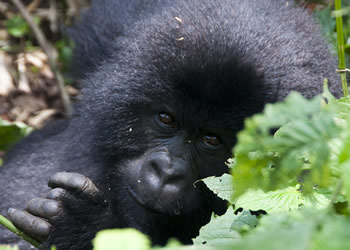 Things to consider when Planning Gorilla Trekking Tour
Things  to consider when Planning Gorilla Trekking Tour in Africa.
we present you the ultimate guide for gorilla trekking in Africa by answering the best info about the gorillas in Africa, like mountain gorillas, Eastern lowland gorillas, where to go for gorilla trekking , national parks for gorilla trekking, cost of the gorilla permit, Safari companies in Africa offering gorilla trekking tours, best time to visit the mountain gorillas . Things considered mostly Gorilla safari planners include the cost of the gorilla permit, hotels to be stayed ( Budget Hotels , Mid range or Luxury Lodges) Whats the price of the entire safari including Airline.
Many travelers coming to visit East Africa and central Africa always have the main theme being gorilla trekking , Wildlife Safaris and adventurous ( Hiking tour) in the countries of Rwanda, Uganda , Democratic republic of congo. All gorilla trekking destinations in Africa are listed on the UNSECO world heritage Sites not forgetting the Virunga National Park, Kahuzi Biega National Park , Bwindi Impenetrable forest national park yet for Congo wildlife parks of Upemba , Salonga  & Garamba National Parks .
In East Africa, gorilla trekking has drastically become the fulcrum of tourism to the countries where they are found. For a very long time now, various people have had different views on how these primates behave amidst mankind.
This has been majorly brought into limelight by the fact that these are wild fierce animals that should never come nearer to human beings. However, these primates are almost human-like creatures and are only a threat if you provoke them. Just like any other properly arranged activity, gorilla trekking is no exception. There is always a better time to carry out everything and the same applies to gorilla trekking experience. So this brings us to the mouthwatering question of the best time to go for the gorilla trekking expedition;
When is the best time to visit the Mountain Gorillas / When to go Gorilla trekking .
When is the best time to visit/ track or trek the gorillas in Uganda and Rwanda? Which months should one try to avoid, which months are the best for gorilla trekking? These are some of the rampant questions that this section will labour to put to rest. While trekking mountain gorillas can be done any time of the year in either countries where (mountain gorillas are found i.e Rwanda and Uganda), because of the relatively wetter/ rainy seasons in the mountain gorilla inhabited national parks, many tourists often prefer the months from June to September and then December, January and February.
In Rwanda, the first rains start coming in late February through March, April and May and so many tourists try to avoid these months for fear of getting muddy and all wet while tracking the gorillas deep in the forest. However, during these months, because of the rains there's plenty of gorilla food down slope and it's much colder on the upper slopes. So the mountain gorillas keep on the lower slopes where they find it warmer and get food easily. So if you track the gorillas during these months, most likely your trek won't be a long one – many trackers find the gorillas after 2 hours hike and by 2PM they are back.
The same applies to Uganda although the rains there come in March, April and May. Of course this makes it rather harder to trek the steep terrains. Even then, the rain only comes for like 1-2 hours in like every 2-3 days and the sun comes out. We have noticed that even in the so-called drier months, the rain will often come in though this time it is not so heavy.
Whatsoever the case and explanation may be, experience shows that mountain gorilla trekking can be done any time of the year and you will most likely get the same experience.
However, when planning for your gorilla trekking expedition, not every cloth is advisable to be put on but rather a few selected ones;
When planning for your trekking excursion to see gorillas in either Bwindi impenetrable national park in Uganda or Volcanoes national park in Rwanda, we advise you to come with a few things that are useful for you to attain your lifetime absolute experience that involves trekking/hiking visit mountain gorillas in Rwanda. Such things that you need include your attires that you will be putting on such as;
Packing List for Gorilla Trekking in Africa
 You need to put on light weight hiking boots for this activity/strong waterproof walking boots due to nature and altitude of the forest. So get shoes that have good ankle support (the ones that come above the ankle bone) to prevent you from getting pitched by the thorns.
Take a light jumper and lightweight breathable waterproof jacket/trousers as temperature is variable and weather conditions can change at any given time.
 Combine your above the ankle boots with light weight long wool socks which are comfortable for a mountain tropical forest.
  Along sleeved shirt and trouser to insulate your temperature. Please ensure that you trek in your long sleeved trousers/shirts to avoid insects such as safari ants entering your trousers.
  Sweater for cool evenings and chilly mornings due to nature and altitude of the place
  Bush hat with a brim for sun protection if at all you fancy it. Please carry a hat to protect you from the strong sun rays if it is hot.
 You may also need to carry some Sunglasses too with neck strap
 Sun cream is also necessary
Always put on garden gloves that will protect you from germs and other items that may scratch your hands.
 You must also have different layers of clothes since the temperatures tend to change.
So having put all that into consideration, we must exhaustively look at what really transpires on the actual day of the trek;
 Tracking down rare gorillas in the thick rain forests of central Africa is not an exact science and it takes some steps to get to these primates
Finding and getting to the gorillas is not always easy, nor are you guaranteed to see them. The arduous trek to the gorilla groups takes you through very dense vegetation, on narrow trails up steep and often muddy slopes. The search for gorillas can last several hours, since the gorillas move around in the thick undergrowth shifting deeper into the forests at times.
The good news is that once you search them out the gorillas don't flee, because they are quite used to human onlookers.
Trekking expeditions start out early in the morning, driving to the boundary of the national park for formalities before continuing to a ranger's station.
Leaving your wheels behind at the ranger station, the walk begins. Your group follows a local ranger through farmlands and into the thick vegetation of Bwindi Impenetrable Forest.
Did you know the collective noun for gorillas is a 'whoop'? The rangers can tell you about the specific family of gorillas you are trekking to, filling you in on the family history and sharing their in-depth knowledge about mountain gorillas.
The rangers usually trek to the site where the gorillas were seen the previous day and trace their movements from there to locate them. The gorillas are monitored daily which helps keep track of their locale, as well as their health and safety. After a fair amount (anything from 45 minutes to 8 hours) of challenging bundu bashing along muddy tracks you will hopefully come face-to-face with a family group of gorillas in the forest. Usually you put your stuff down, try to remain silent and move in a little closer with just your cameras.
This is where the magic happens, as the unique and intimate gorilla encounter unfolds. You have an hour to observe these gentle apes at close range (up to about 7 metres) in their natural state and take photographs of them. Watching the untamed gorillas feed, groom, parent, play and interact is spell-binding. The striking resemblance between the way the gorillas behave and relate with one another and the mannerisms of humans leaves many onlookers awestruck.
After spending an hour with the gorilla family it is time to retrace your steps, trekking back to the ranger's station. Along the way to or back from the gorillas the group usually pauses to eat. You generally carry your own packed lunch and water along with you. Back at the starting point of the trek you transfer to your vehicle and make your way back to your accommodation.
The above is a rough guide to what will take place on the ground. The actual experience can vary depending on local conditions (weather, gorilla movements and happenings, politics etc), as well as being slightly different between exact locations and tour operators. It is important to remember that the gorillas are wild, which means that even though they are habituated to humans, their behaviour is somewhat unpredictable.
The gorillas may possibly retreat into the bush while you are visiting them which is beyond your rangers control as their movements are not restricted. The gorillas generally go about their activities undisturbed though, with some of the young ones showing curiosity about the human visitors.
So in order to enjoy your gorilla trekking expeditions, you must do the following;
 Keep yourself covered – long pants, gaiters and socks help keep the bugs (red ants) at bay and gloves will protect you from stinging nettles and thorny branches.
Get reasonably fit – the trek is usually a physically challenging and tiring mission through rough terrain, so you want to be relatively fit.
Be equipped – carry enough water, waterproof bags for your camera and insect repellent as well sunscreen and a hat.
Stay warm and dry – take warm and rainproof clothing with you to cope with the cold conditions up in the mountains.
Join an organised trip – book through a tour company to simplify your travels and get the gorilla permits arranged for you beforehand.
Choose your timing – try to avoid trekking in the rainy season (March to April and October to November) when the going gets tougher.